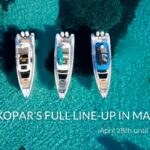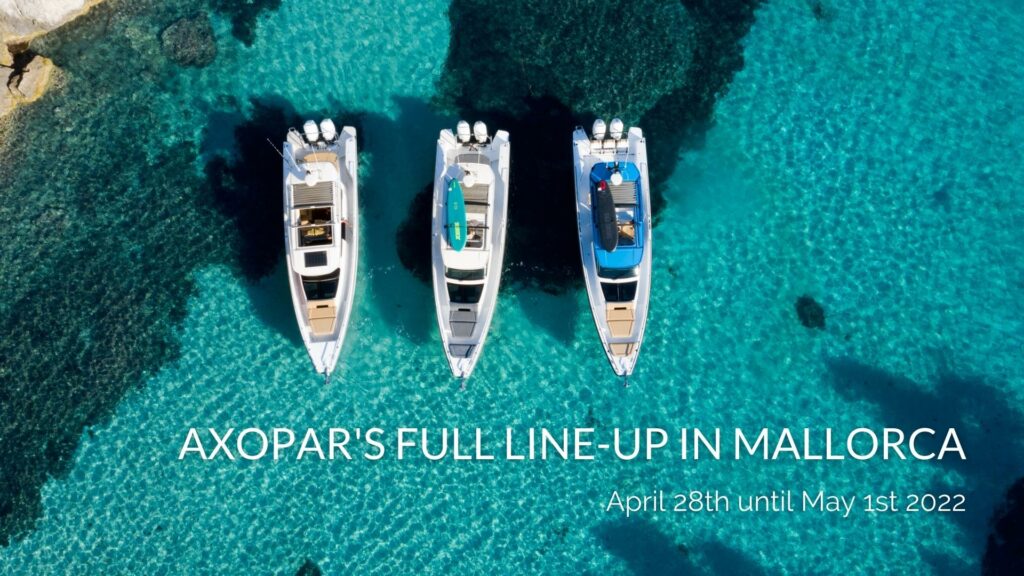 The full line-up of Axopar models will be on show for the first time – including the premiere of the highly-anticipated Axopar 45 – at Axopar's Customer Day in Mallorca, Spain.
From April 28th until May 1st 2022 – running in parallel to the Palma International Boat Show – Axopar will be exhibiting the full Axopar and BRABUS Marine ranges, including the Axopar 45 XC Cross Cabin, the Axopar 25 Cross-Top, the BRABUS Shadow 300 Cross-Top and the BRABUS Shadow 900 Sun-Top Deep Blue Edition.
The expansive exhibition area will include Axopar zone, BRABUS exhibition zone, Axopar X Jobe pool party zone, Meet the BRABUS team, 2022 BRABUS X Jobe Water sports Collection and more…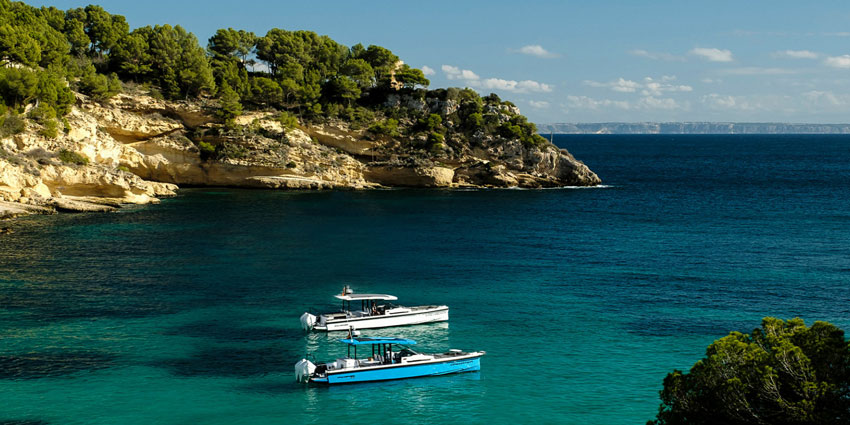 Derani Yachts will be attending the Axopar 45 premiere in Mallorca as well as the Palma International Boat Show.  If you are interested in seeing the reveal of the Axopar 45 or another boat, please get in touch so we can organise to show you aboard in-person or alternatively we can provide you a virtual viewing of any of the boats on display.
Axopar 45 XC Cross Cabin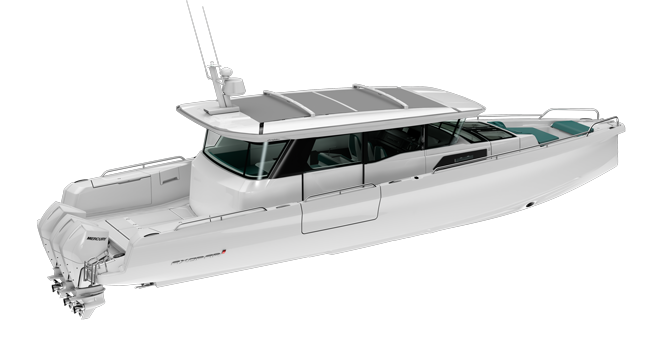 The fabulous new Axopar 45 range represents the pinnacle of Axopar pedigree and DNA. Axopar have carefully listened to their customers' needs and wishes for their ultimate adventurer and are excited to build this new range with the joint passion shared by Axopar owners all around the world.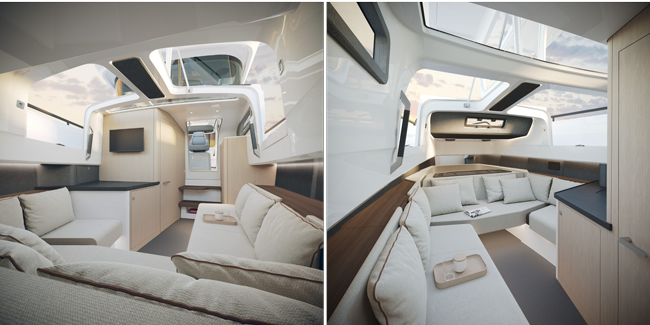 Axopar boats challenge the norm and their instantly recognizable flagship Axopar 45 is bound to create a lot of buzz in the boating world offering owners one of the broadest selections of options and customizations in its size and in the history of Axopar to create each individual customer's own ultimate adventurer.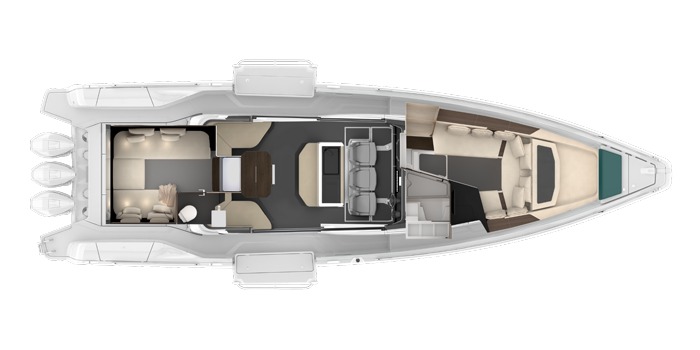 The Axopar 45 exudes confidence, harmony, and composure with an air of sophistication surrounding its entire design language.
Axopar 25 Cross Top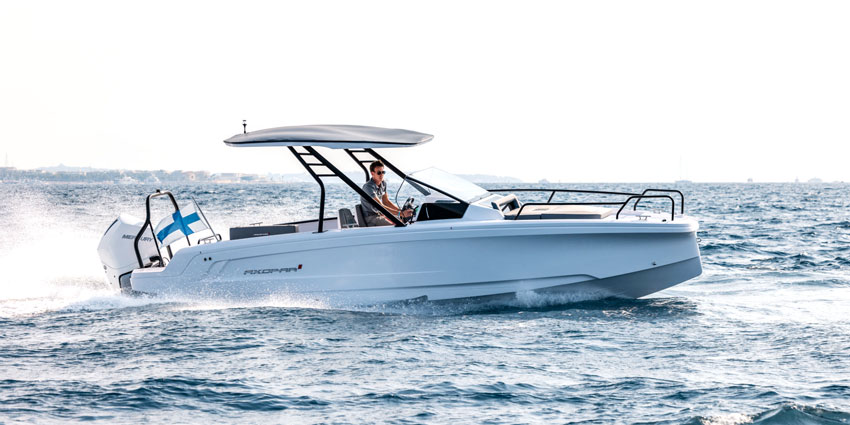 The ultra-cool looking Axopar 25 Cross Top has a raised 'cuddy cabin' sleeping accommodation, where the cabin defines the character of this remarkable new boat. A full width cushioned sundeck is positioned atop the cabin roof, with a sloping back rest that follows the rake of the front screen.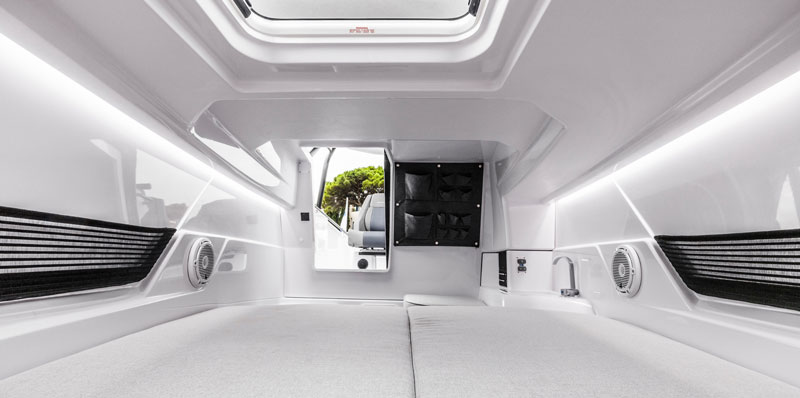 For anyone looking for something more than just a straightforward day-boat, the 2021 Cannes Yachting Festival bore witness to the pre-launch of the new Axopar 25 Cross Top – Axopar's foray into the thriving world of cuddy cruisers, and another leap forward in terms of value for money; now offering more space, more overall comfort and more all-round capability.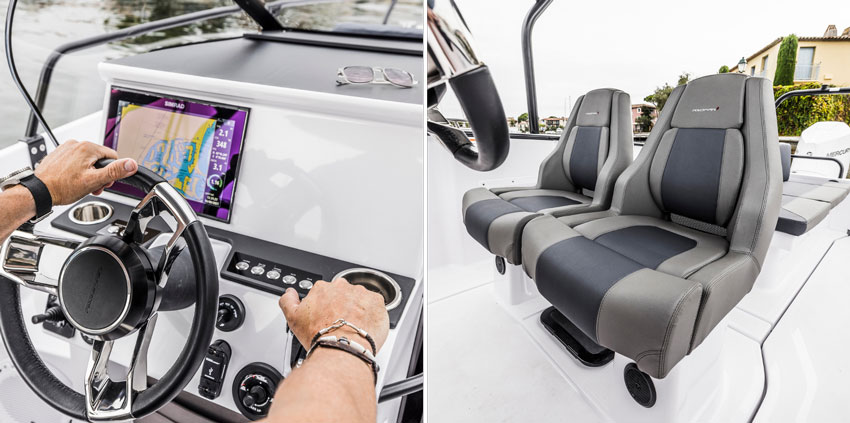 It's time for a shakeup and the Axopar 25 provides just that – an innovative and compelling solution, but strictly adhering to its proven award-winning legacy and DNA.
Axopar Boats are available in 22, 25, 28, 37 and now 45 foot models and a variety of configurations which are ideally suited to the boating environment in Asia.
Derani Yachts are delighted to have been appointed the South East Asian dealer for the multi-award winning Axopar Boats.