September has rolled around again and as the weather in Phuket reaches the pinnacle of its green season our focus turns to the Mediterranean and two of the biggest boat shows in Europe with the Cannes Yachting Festival from the 11th to the 16th of September and the Monaco Yacht Show from the 26th to the 29th of September. Håkan Lange of Derani Yachts will be at Cannes and would be delighted to meet you there and visit any of the yachts on show by the brands we represent.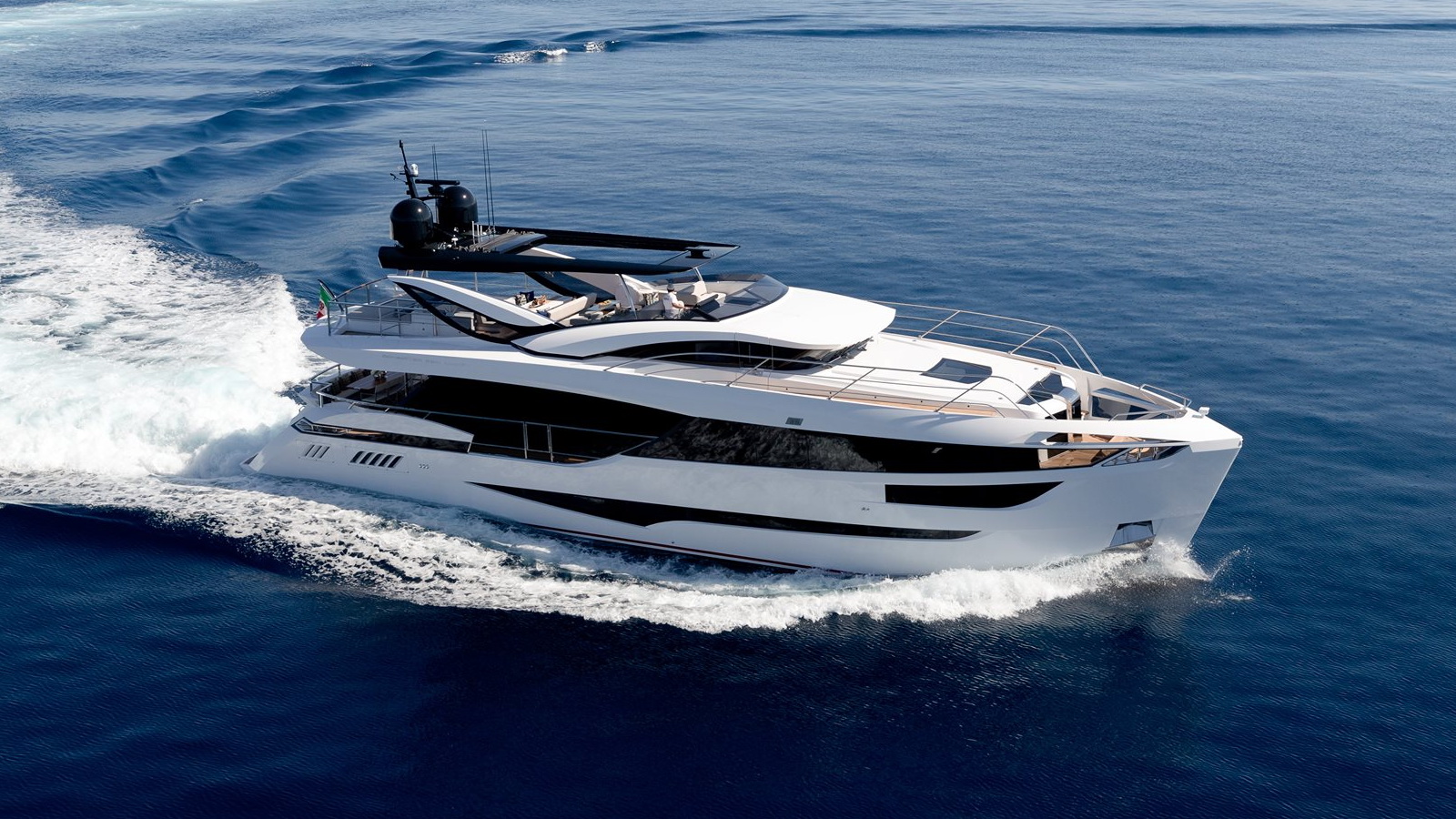 Dominator Yachts will be exhibiting the Dominator 28m Ilumen "Cadet V". As with the two other 28m models Kalliente and Zalanka she represents the culmination of Dominator Yachts commitment to technology, craftsmanship and design. However Cadet V is different from her sister ships in every aspect. From her performance dynamics achieved by a semi-displacement hull and a shaft propulsion system through to the interior decoration the mission with this vessel was to create a true work of art, so every aspect of the yacht has been carefully researched, selected and applied with great expertise and attention to detail, resulting in what Dominator can proudly call a yacht of distinction.
The layout includes a full-beam master cabin and two VIP cabins on the lower deck, while the client extended the already sizeable owner's cabin by almost a metre to offer a truly impressive private area. Inside, bespoke hues of blue, supported by grey, reflect the colour palette of the sea, augmented and contrasted with Stefano Curto artworks in vibrant colours. Dominator Yachts are exhibiting on stands Jetee 015 and Jetee 187.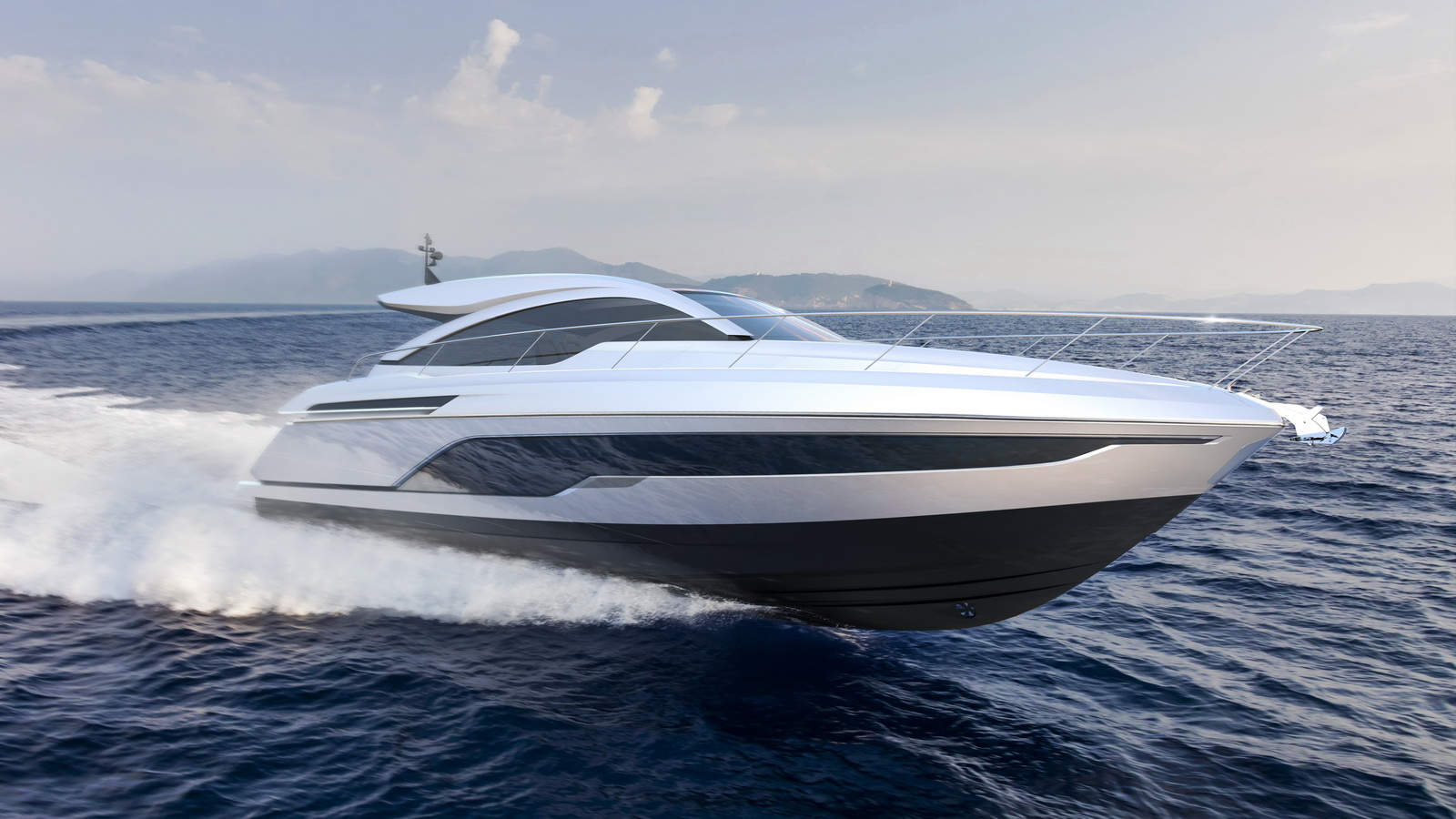 Fairline Yachts, star of the show is the all-new Targa 43 OPEN, which will be making its worldwide debut. This innovative addition to the Targa range is the latest boat designed for Fairline Yachts by celebrated superyacht designer, Alberto Mancini. The hugely successful partnership between the Italian designer and British boatyard, which began with the Targa 63 GTO, has created an instantly recognisable sleek hull with effortless styling and classic 'made in Great Britain' quality, showcasing the new era of Fairline Yachts.
The anticipation for the launch of the Targa 43 OPEN began much before the first model was even constructed, with ten orders being placed on the first day of London Boat Show 2017 – over 18 months before the first boat would take to the water. With a starting price of £482,700 (excluding taxes), the Targa 43 OPEN is powered by twin Volvo Penta IPS600 engines offering speeds of up to 34 knots.
The other Fairline models on show at Cannes Yachting Festival 2018 include: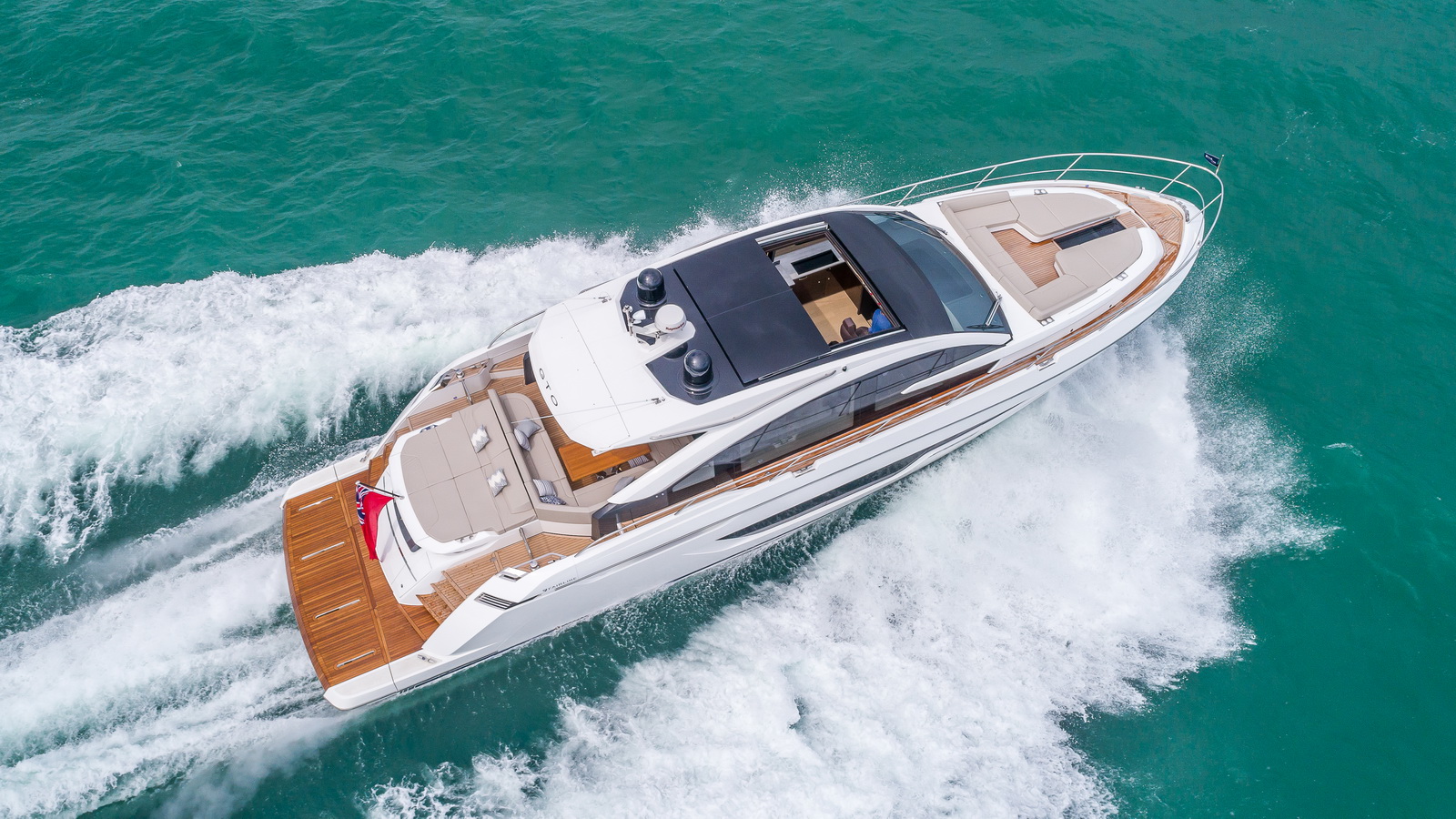 Launched in the summer of 2017 – as Fairline was celebrating 50 years of Great British boat building – the Targa 63 GTO is the first of the new generation of models from Fairline Yachts. Winner at the highly-coveted World Yachts Trophies in 2017 for the 'Best Exterior Design' award in the 50-80ft yachts category, the Targa 63 GTO features the world-class combination of Mancini's stunning Italian styling, rigorous and proven naval architecture by renowned Dutch firm Vripack and the hand-crafted, made in Great Britain quality of Fairline's passionate and skilled craftsmen.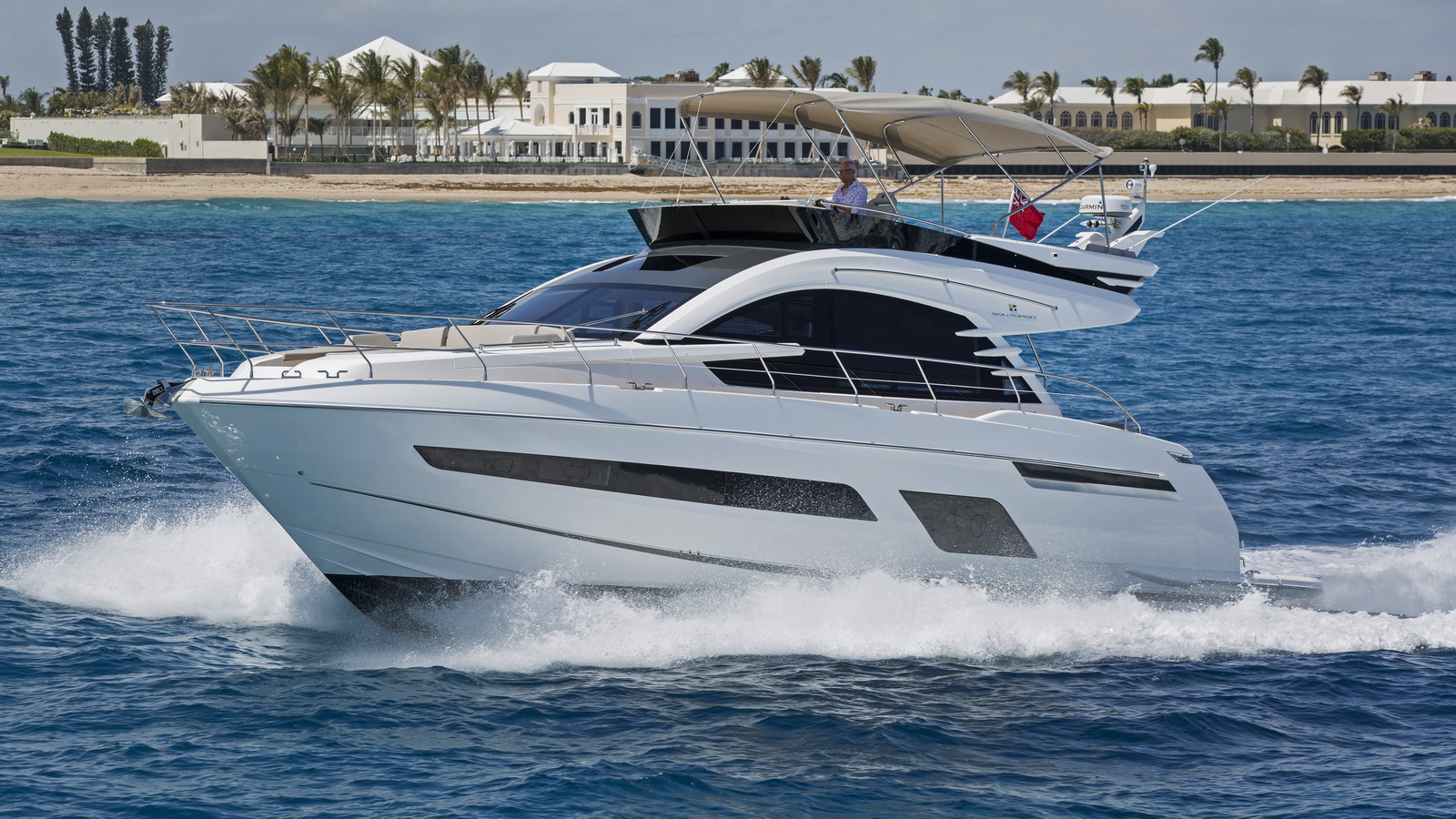 Launched at Boot Düsseldorf 2017, the Squadron 53, crafted with Alberto Mancini's design expertise, has proven to be extremely popular. The yacht, based on Fairline's existing and well proven 53ft hull, features a new Mancini design from the deck upwards, showcasing Fairline's new exterior styling.
This expansive cruiser features a spacious main deck from the cockpit to the lower helm, which in turn ensures a generous 6ft 4in headroom at the foot of the large double bed in the mid-master cabin, adding to an overall sense of space. Handcrafted to order by Fairline's highly experienced and dedicated craftsmen, the Squadron 53 provides owners with total command and control. From superior engineering and multiple layout options, to small details that delight, the Squadron 53 is the perfect choice for those who want their yacht their way.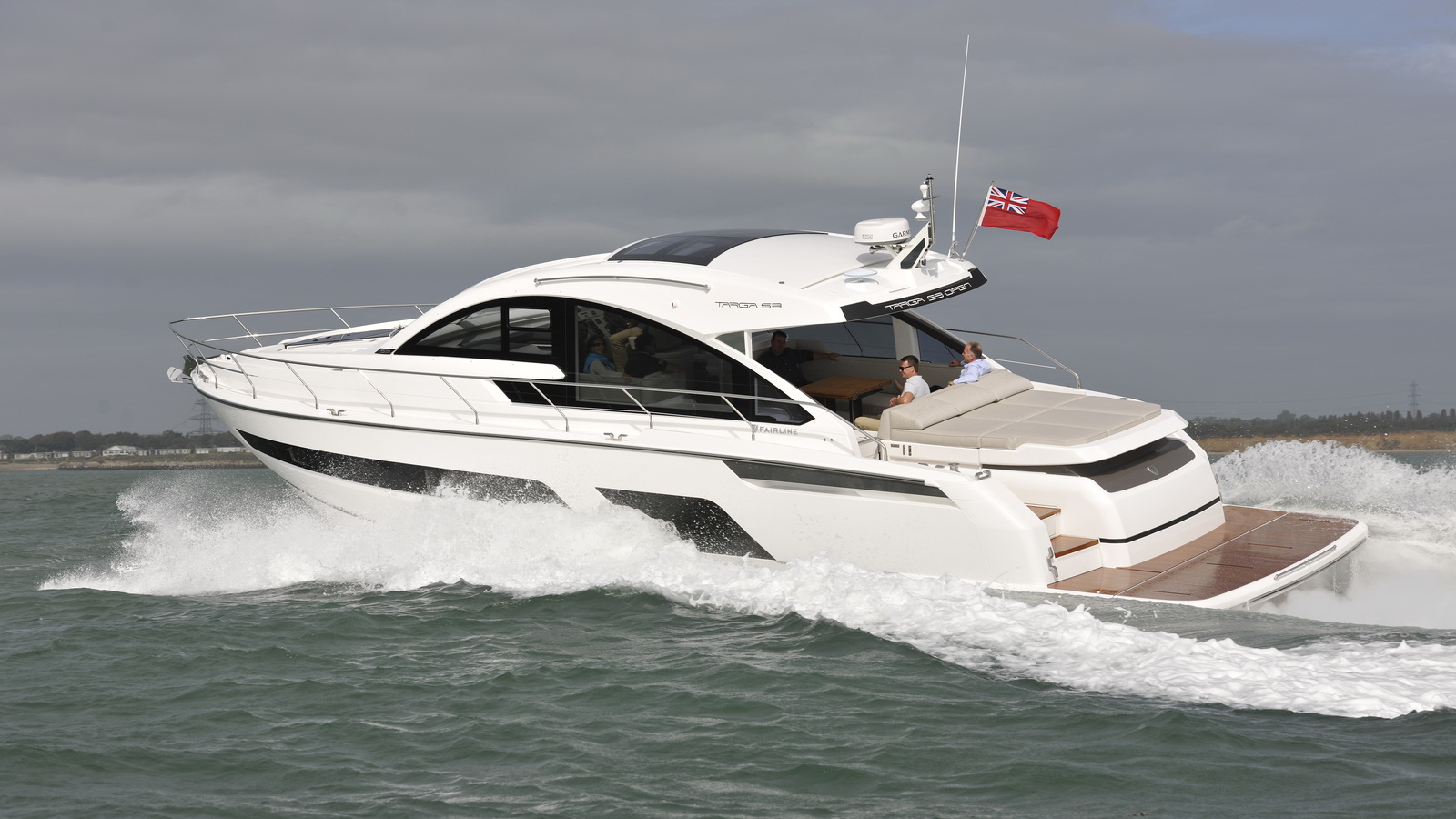 The Targa 53 OPEN express cruiser maximises the feeling of freedom and fun on the water by providing uninterrupted entertaining space above deck and in the spacious two or three cabin layout below. This sleek and stylish cruiser is emphasised by eye-catching, tapered hull glazing that accentuates the dynamic character of this sporty Targa model.
The Targa 53 OPEN offers a choice of two shaft driven engine options from Volvo – D11-675 and D11-725 – offering minimum fully loaded top speeds in excess of 30 knots and a range of at least 300 nautical miles at a cruising pace. There is also the ability to add stabilisation, with the boat engineered to accept a Seakeeper NG6 gyroscopic stabiliser.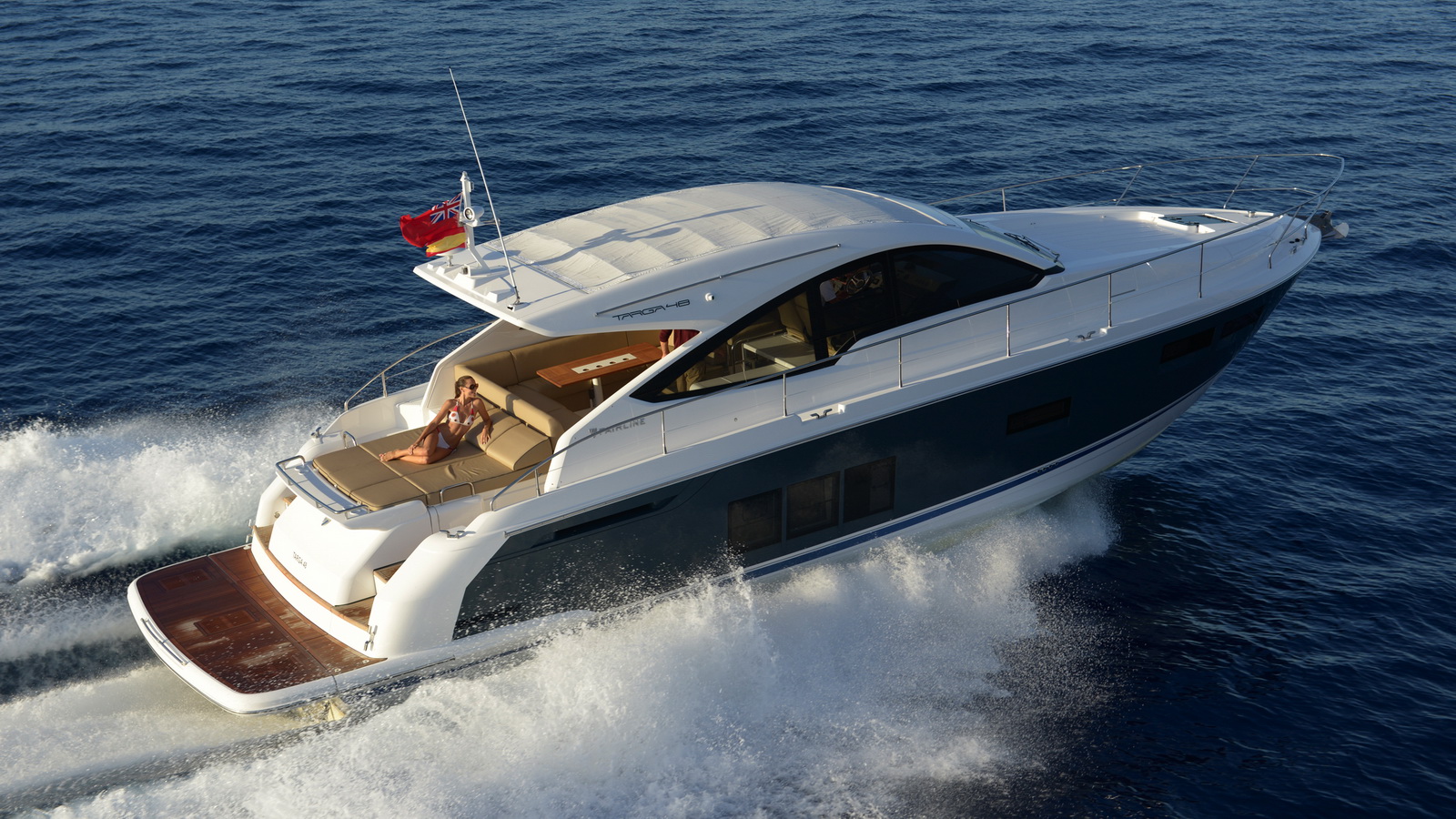 The Targa 48 OPEN is one of the most exciting sports cruisers on the water. A beautifully appointed two or three cabin, double en-suite model, the Targa 48 OPEN embraces the design trend of spacious sociable areas both inside and out.
Featuring newly designed hull windows, courtesy of Alberto Mancini, which allows the upgraded interior to be bathed in natural light. The Targa 48 OPEN offers a range of high quality interior options, providing superior comfort and luxury for every guest that steps on-board. The model also features an electric canvas roof as standard, as well as a garage for a jet tender and the option of a submersible swim platform. Thanks to its impressive twin Volvo IPS 600 or IPS 700s, the Targa 48 OPEN offers exceptional performance and manoeuvrability.
Key personnel from Fairline's design and manufacturing teams will be on the Fairline stand, providing visitors with in-depth information about the company and its boats heading into 2019 and beyond. Fairline Yachts can be found on stand Pan 036.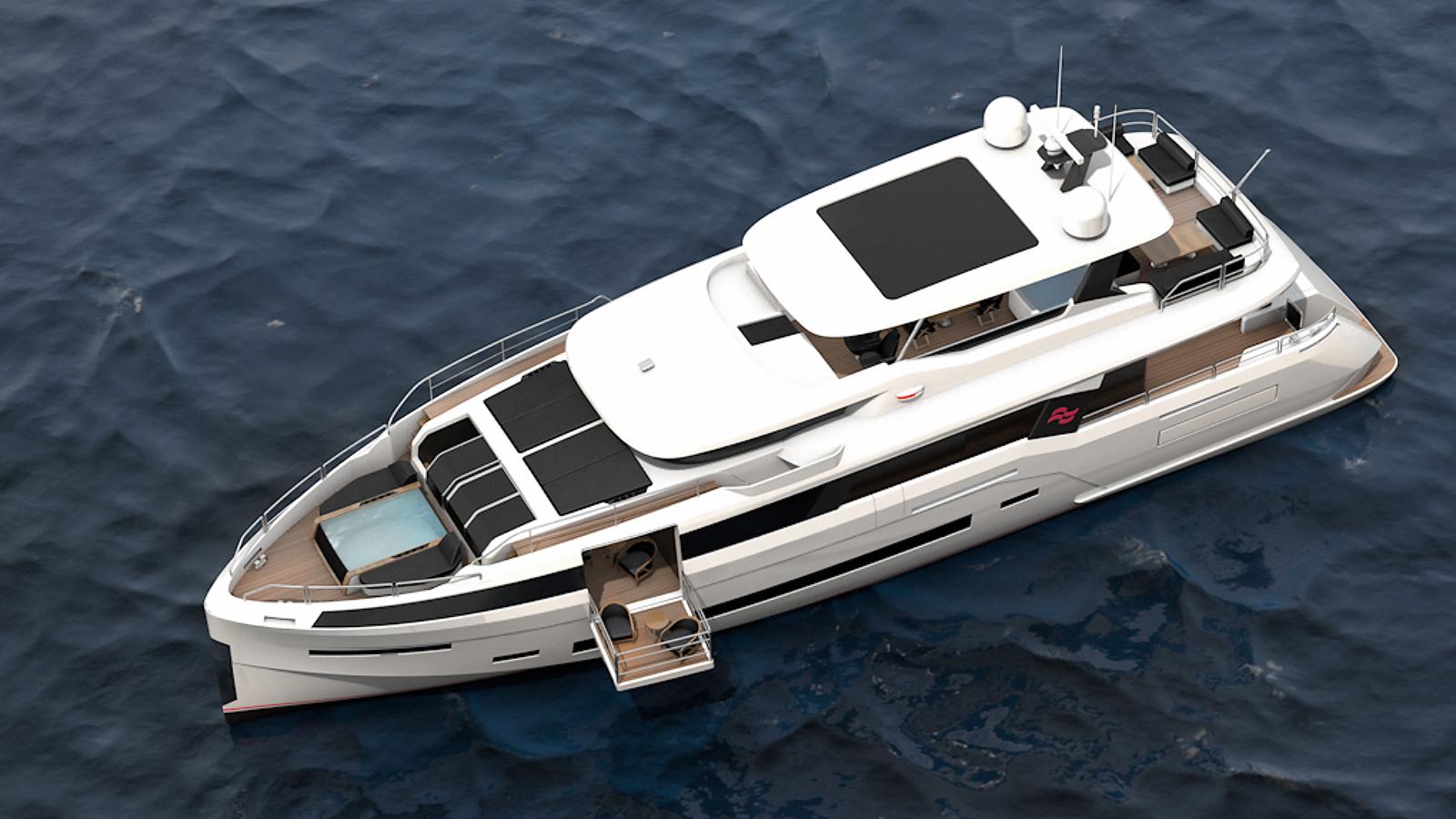 Sirena Yachts will be displaying the Sirena 58 and Sirena 64. Founded in 2006 Sirena Marine was the first production yacht manufacturer in Turkey, with more than 250 motor yachts and 90 sailboats built to date. At the company's recently expanded 155,000 square-meter facilities located in Bursa Orhangazi, Sirena's vision is to develop world renowned brands by integrating the talent of world-leading designers such as Rob Humphreys and Germán Frers, with its hard-won manufacturing expertise and considerable engineering know-how.
The innovative, low drag, canoe-shaped hull design produces a vessel capable of planing at high speed or semi-displacement cruising when in low fuel consumption mode. Equipped with gyroscopic stabilisers, it offers the ultimate in smooth cruising, not to mention optimised comfort at anchor; the perfect yacht for family adventure.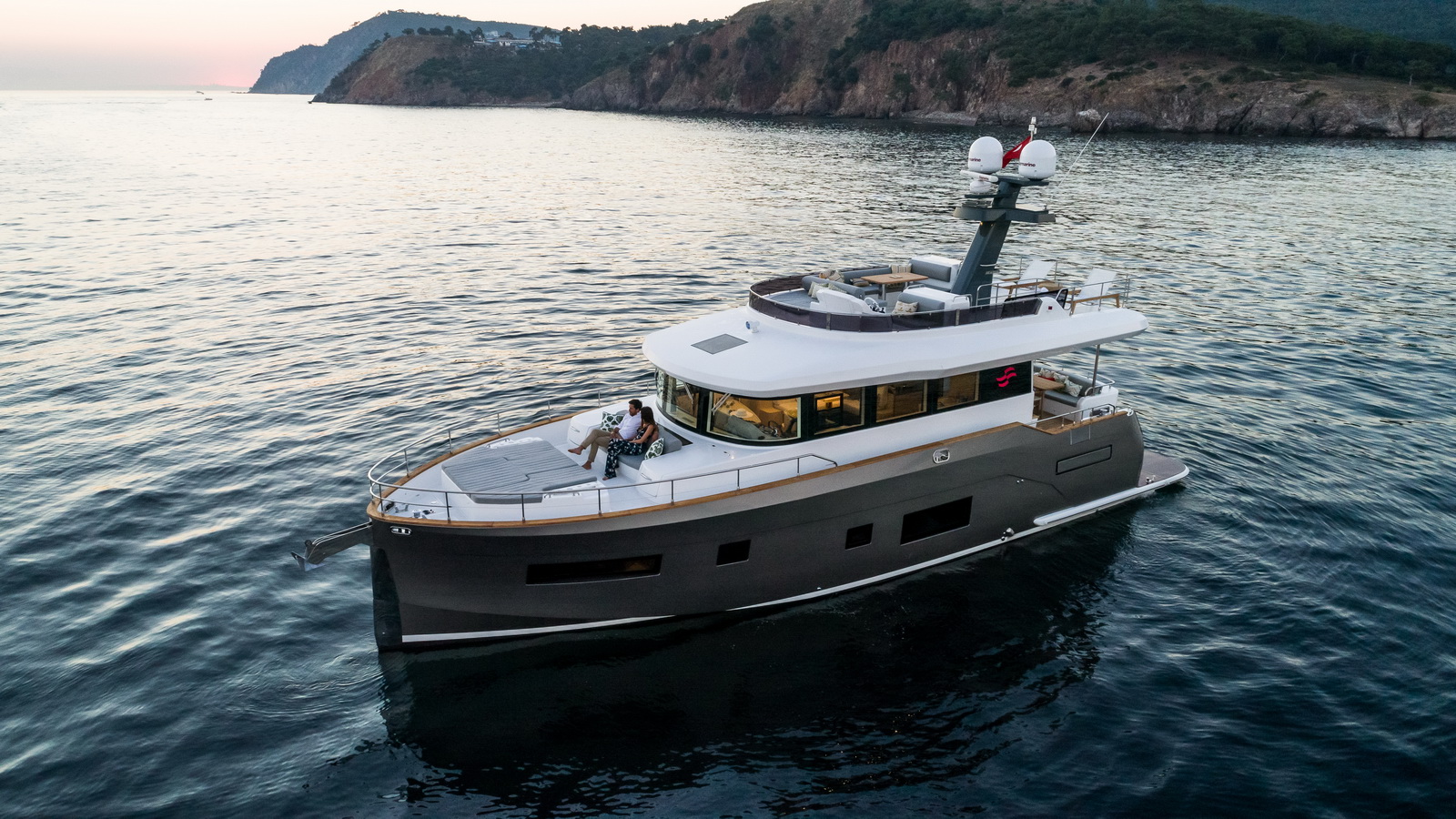 The Sirena 58 is second model in the Sirena Yachts range. Like her predecessor the 64, she has benefited from the development of a hull underbody intended to be efficient, and to have best performance at a wide range of speeds, from displacement mode up to planning condition. She will be able to go to all corners of the world, cruising in comfort and safety with low fuel consumption. Aesthetically she shows the strong purposeful character of an expedition yacht having full headroom throughout, large uncluttered deck areas, large glass window surfaces and a fly bridge which it is larger than the norm.
The volume inside the yacht is very impressive for a yacht of her size. The joinery work built out of high quality woods and fabrics, offers several options available regarding interior layout to maximize the enjoyment of life at sea according to each individual need. On the main deck the saloon is central and the close attention paid to ergonomics and use of the available space is also evident. Having the galley located near the stern is perfect for setting the table in the cockpit thanks to the complete absence of steps, creating a single spacious area for both indoor and outdoor living. With the huge lateral windows running full length without interruption and another window on the cabin-top, an impressive amount of natural light permeates the interiors, bringing out the best of the contrasting colours of the oak and wenge woods.
The Sirena 58 is available in a two or three cabin interior layout. The two cabin layout has significant interior volumes, with a 16 square metre full beam midships cabin and an almost 20 square metre forward master cabin. The forward cabin has direct access to the large living area on the foredeck, a design solution usually only found on much larger yachts. The Sirena 58 is also available in two different three cabin versions. Retaining the forward master cabin the midships cabin can be divided into two cabins, all with en suite heads. Alternately the midships cabin becomes the master and the fore cabin is reduced in size with no access to the foredeck and a twin cabin is added between the two larger ones and all cabins are en suite.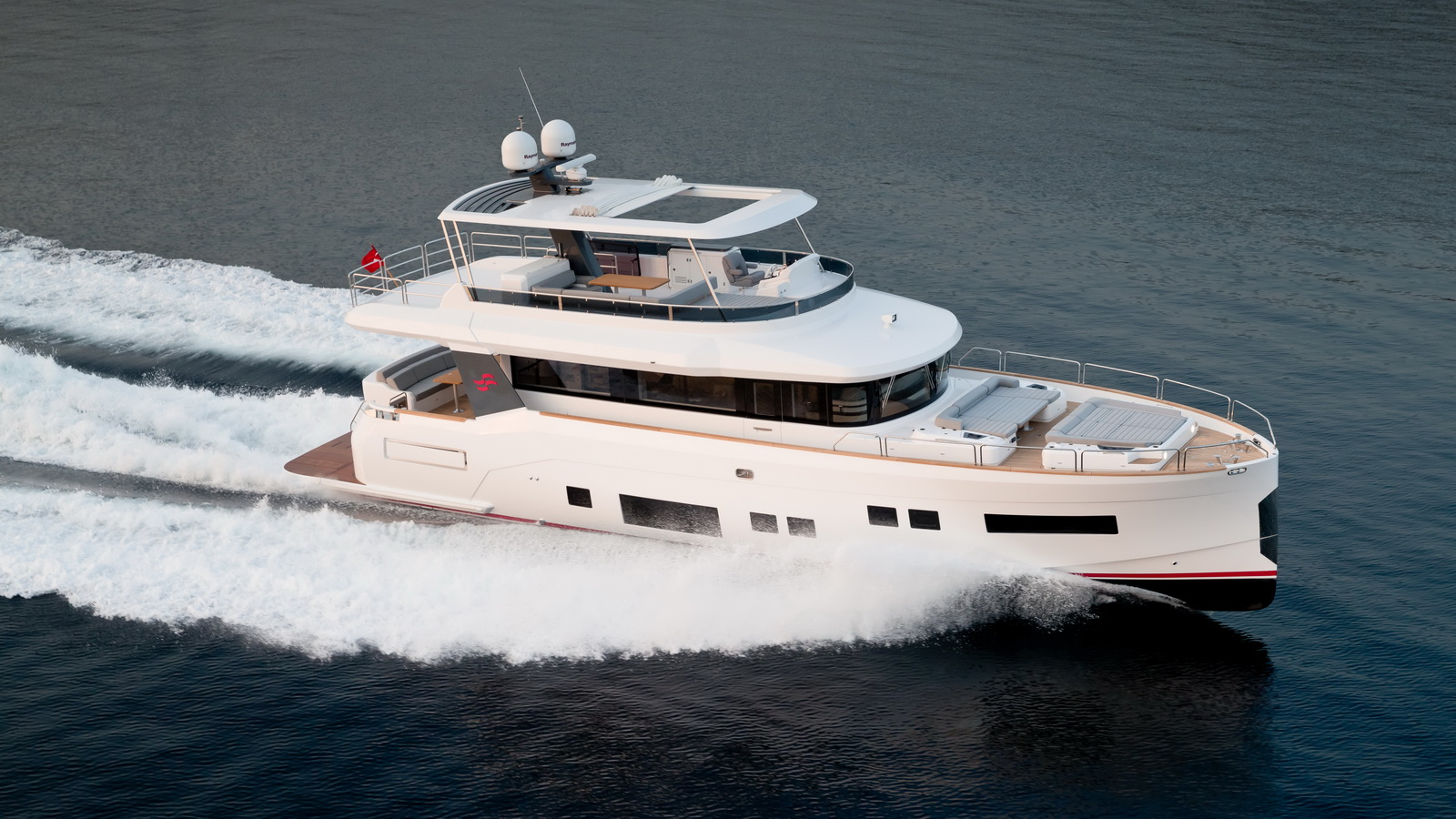 The Sirena Yachts 64 was the first model of the line to be launched and made its world debut at Boot Dusseldorf in 2017. The interior and exterior living spaces provide generous volume normally seen on much larger vessels for serious world family cruising in great comfort. From the earliest design stages the main concept of the interior was about comfort and light. Large glass windows provide a good view of the sea and let in plenty of natural light. Interior style is defined by a skillful use of white, carefully mixed with a touch of dark colour defining frames and panels. Oak combined with wenge woods and a light and soft moquette carpet on the floors amplifies space and underlines the design.
The hull design was developed in depth, including extensive tank testing at the Wolfson facility in Southampton. The result is a pleasant sea kindly low drag canoe body capable of planning at high speed or cruising in semi displacement, low fuel consumption mode. The hull stability is well matched to the needs of the gyroscopic stabilisers to ensure cruising or anchoring in great comfort. Powered by Caterpillar engines with a choice of 850 or 1,000 horsepower the boat can reach a top speed 26 or 28 knots and cruise at 10 knots for over 1,200 miles with 10% reserve fuel.
The standard layout is 3 guest cabins and 4 heads with the option for a 4th guest cabin. There is also an option for a 2 berth crew cabin with head and separate access through a door from the submersible platform. The fully enclosed galley and dining table are located midships with the lounge aft opening onto the large cockpit with dining table. On the foredeck there is more room for dining at the convertible table plus the option for a Jacuzzi below the sun lounger. The flybridge is enormous with dining and lounging areas and wet bar. The aft end of the flybridge has enough room for sun loungers or can be fitted with a crane.
Sirena Yachts can be found on stand number Qml 094.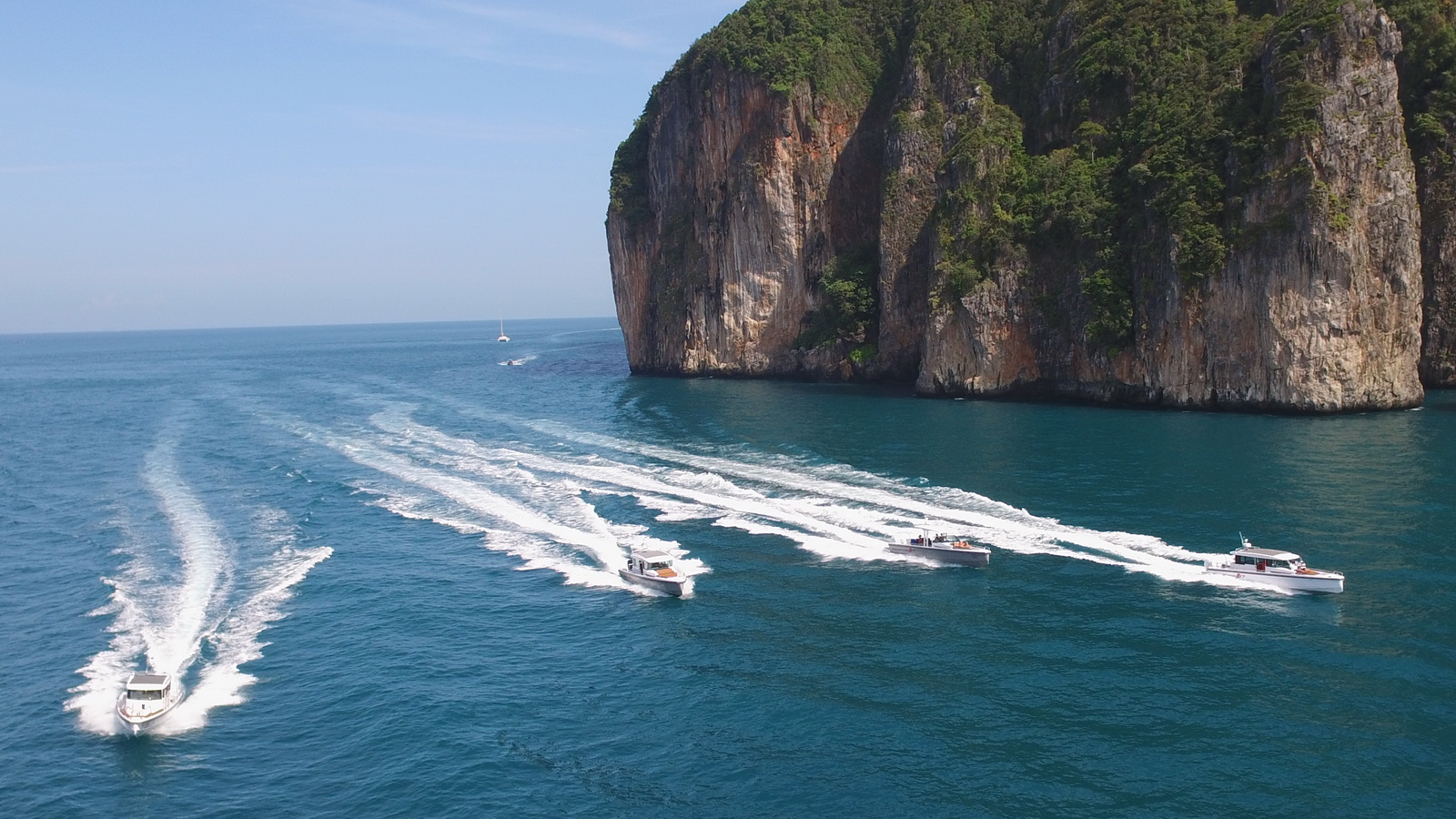 Axopar Boats continue to stay true to their award winning concept of building boats with a perfect combination of an exhilarating driving and sensible fuel economy. They produce boats that are competitively priced, practical and accessible but also have that wow factor. They will be displaying four models.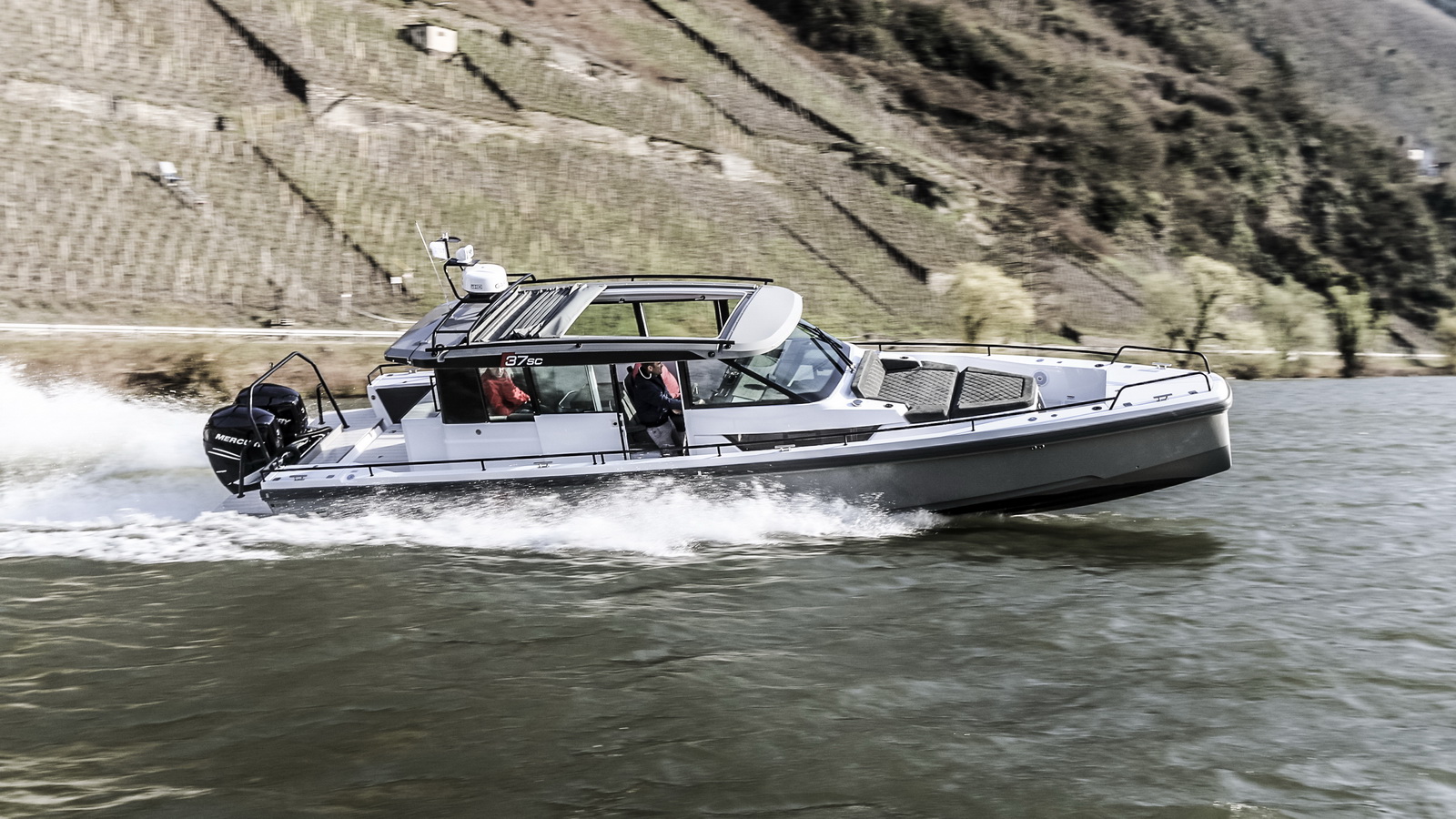 Axopar 37 Sports Cabin, Model year 2019
Cool looks and a fantastic driving experience from the Sports Cabin version make this a subtle rethink on the 37 Cabin, with a more streamlined, more sporty-looking outward appearance owing to a steeply raked front screen and surrounding cabin area. For outright beginners through to seasoned professionals, the 37 Sports Cabin challenges the entire notion of cruising with a more expensive, raised fly-bridge equivalent, and has the power to seduce even the most sceptical of boat buyers.
The enclosed Sports Cabin has a full length canvas top which fully retracts, along with side-opening doors, so that passengers still get a good sense of the outdoors, just as they do from our more exposed Sun Top and T-Top versions. The interior layout offers the same potential for seating up to six people around an L-shaped table, but there have been more tweaks made inside the cabin too. Found inside every Sports Cabin, for example, there's higher attention to detail, with a whole host of quality touches and improvements including a lacquered walnut wood interior, suede covered steering wheel, Nirrox 100% waterproof upholstery with white diamond patterned stitching and an electrically operated canvas roof as standard.
Configured from new either with or without our additional aft cabin accommodation option, turn up and turn heads with the Axopar 37 Sports Cabin.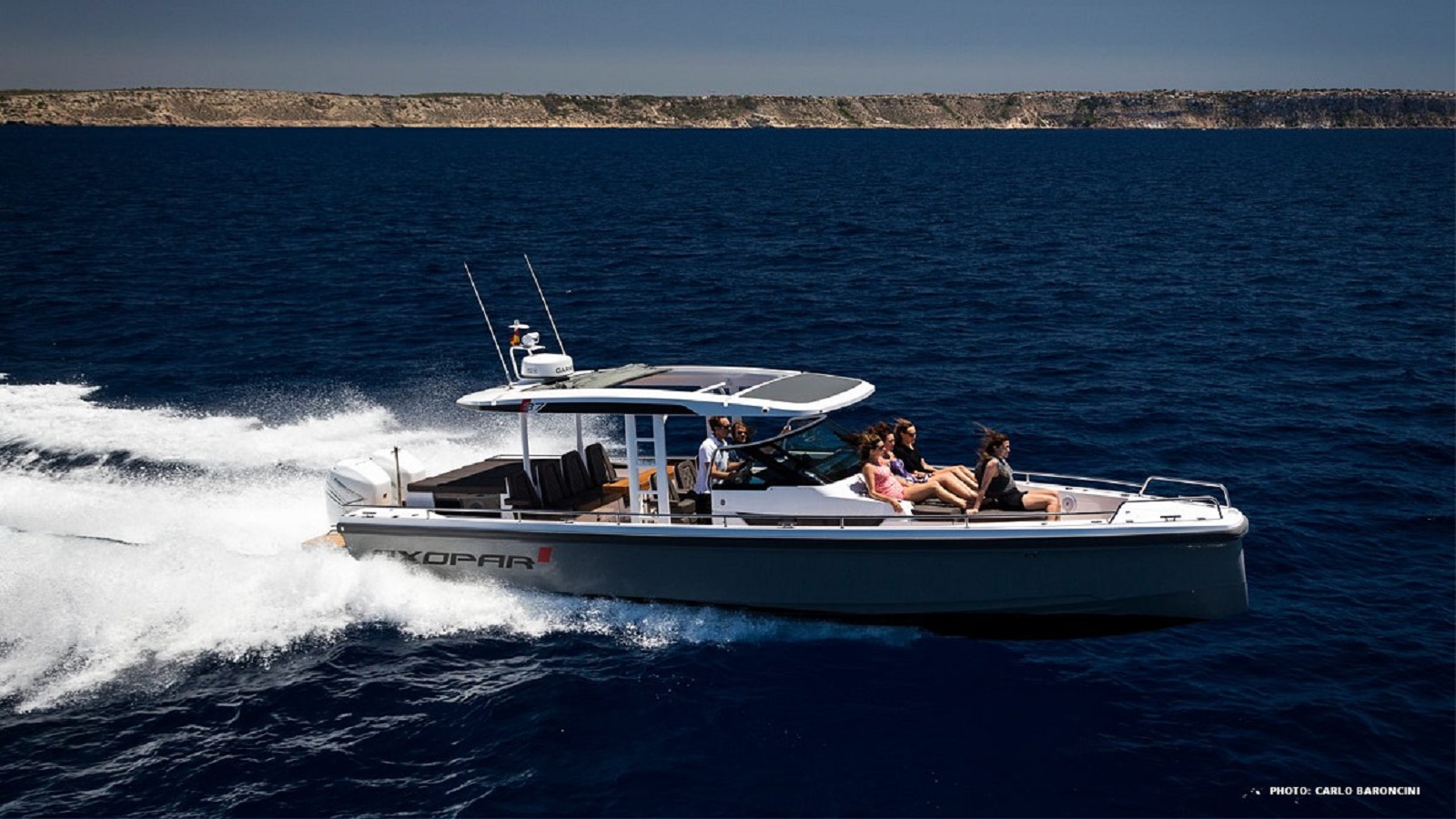 Axopar 37 Sun-Top, Model year 2019
For day-long boating hospitality and water-sports fun, mix the perfect boating cocktail by adding friends & family with the full length shaded protection of the Axopar 37 Sun-Top. With an extended length roof when compared to the T-Top, the Sun-Top version offers the most shade and weather protection possible, by way of a manually controlled, full-length Sunbrella canvas section, which can be upgraded to full electric control as one of our options.
Without compromising in any way on the space and versatility of the walkaround side and aft-deck area, the Sun-Top large bimini is fixed on sturdy mounts and successfully screens all seven seating positions and the central dining table in one. While the Sun Top is every bit a long-distance, comfortable passage maker, the clever design nonetheless makes an ideal proposition for those who love 'al-fresco' dining whenever and wherever they can. The three front row seats can swivel 180 degrees to make this a very sociable area around the table and there's always plenty of choice from our options list to enhance and upgrade your boat, including our fully plumbed Wet Bar option, or 20 litre capacity draw type fridge, which holds enough quantity of food & drink for all-day hospitality.
Before or after lunch, sit back and relax on the foredeck sunbed area and congratulate yourself on choosing such a cool and versatile boating brand.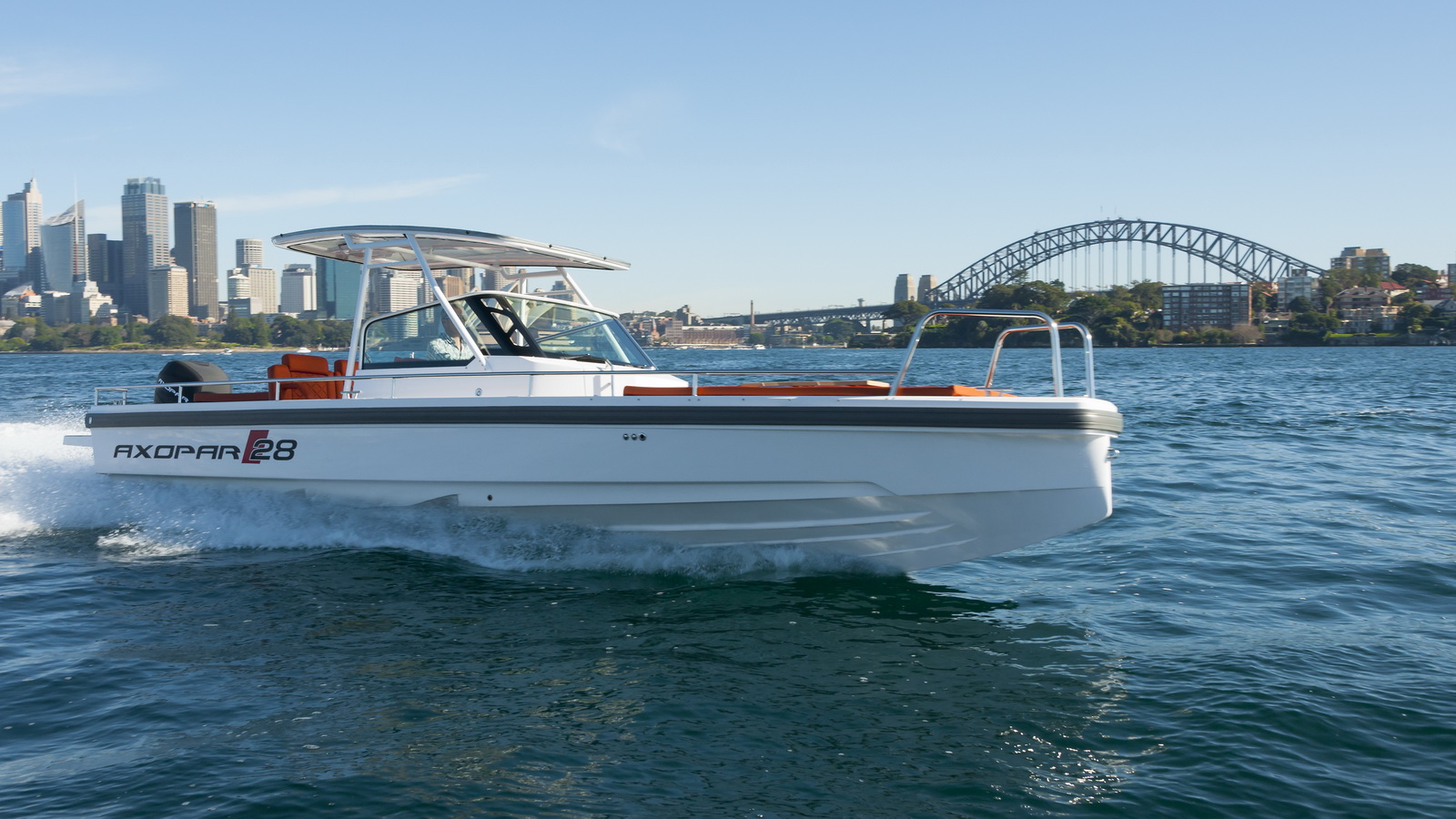 Axopar 28 T-Top, Model year 2019
Look cool and stay cool. Why let extreme hot weather curtail your boating enjoyment? Now you don't have to with Axopar's smart-thinking 28 T-Top. Sometimes having too much sun can be as unpleasant as not having enough, and Axopar thought about that when they designed the smart-thinking T-Top with large, canvas roof shade, mounted to a sturdy & permanent metal frame.
A highly versatile, multi-purpose, walkaround sports cruiser, form & function have fused together to create the Axopar 28 T-Top version, successfully screening the front and rear passengers from the less pleasant effects of too much sun. Knowing you and your guests can now spend even more time on the water means the toilet and wash-hand basin and top-loading fridge options, for example, are the kind of useful upgrades Axopar offer to make life afloat that little bit more civilized. Ideal for those who live too far away from their boat to want to return home each night or perfect for those impromptu weekends away with your spouse or partner – our Aft Cabin option allows comfortable overnight sleeping accommodation for two, with the same space doubling as significant extra stowage capability, when not in use.
For day long hospitality from a dedicated drinks serving area, our fully plumbed-in wet bar module is a clever touch that's bound to impress your friends with an end-of-day sundowner, or day-long supply of your favourite ice-cold beer!
Celebrate your time afloat with the smart-thinking Axopar T-Top.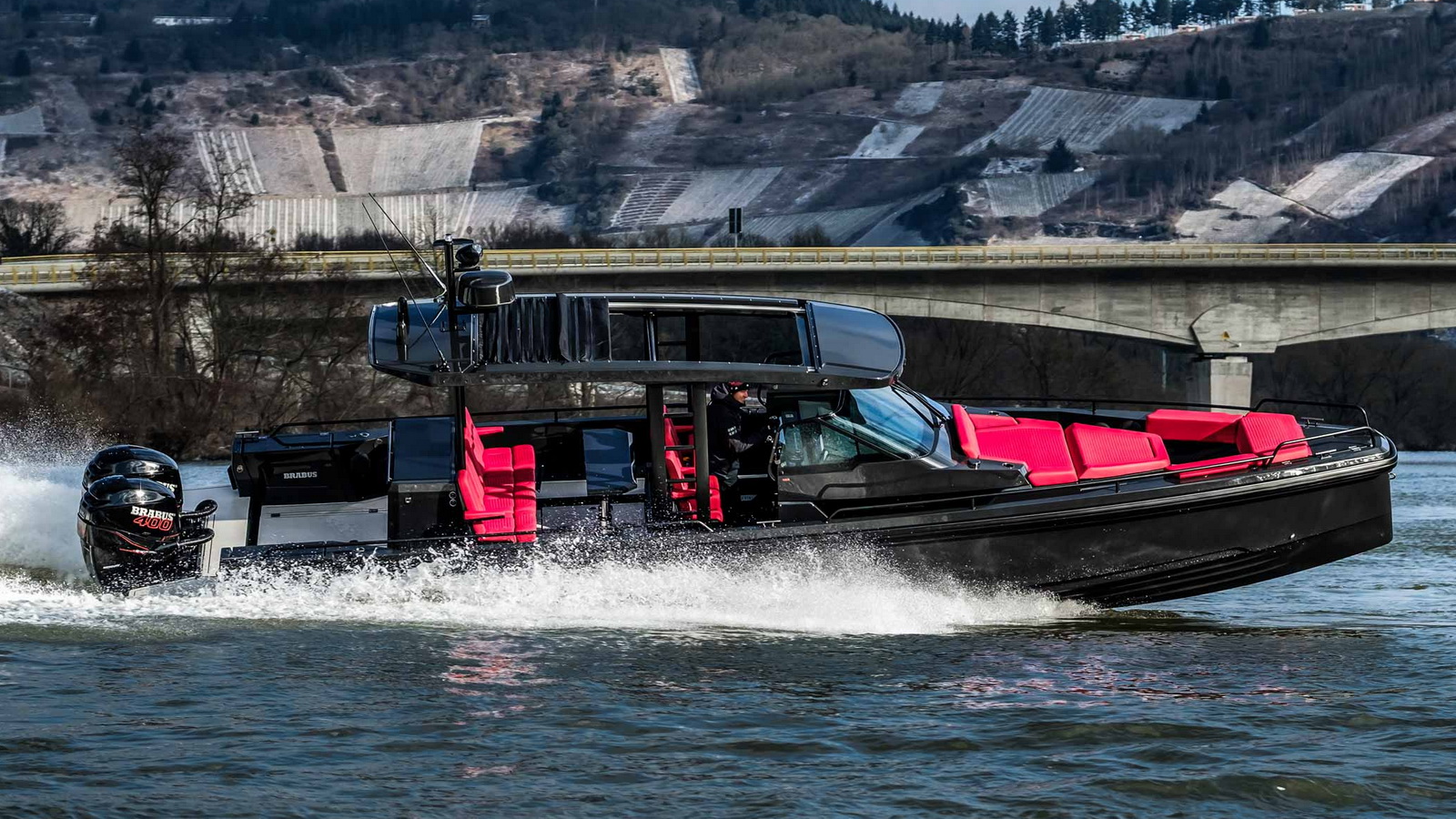 BRABUS Shadow 800
The BRABUS Shadow 800 by Axopar is the result of an exclusive and exciting alliance between award-winning Finnish boat builder Axopar Boats Oy and BRABUS GmbH. Designed and manufactured utilizing the Finnish design know-how and German engineering talents, the latest high-performance technology and components to create best-in-class performance and one of the world's most desirable boats.
Based upon the same underwater lines and versatile deck layout as the offshore capable Axopar 37 Sun Top, this is so much more than just a mere styling exercise. This is the start of a long-term relationship between Axopar Boats and BRABUS, the objective for which is to re-master and create an entirely new genre of world class hyper-boats in different size categories.
Axopar boats can be found at stand Pan 209.
See you at the show.