We are pleased to announce that the new Axopar 28 range is now available in a twin engine option with Mercury Marine´s all new 3.4L V6 Four Stroke engines in either twin 175 or 200 hp. The new engines had their world premiere at the Miami International Boat Show in February this year and the Axopar 28 T Top was chosen by Mercury Marine to demonstrate the improved performance features, technological advances and improved refinement. In fact Axopar was the only boat brand chosen from outside the U.S. to participate in the exclusive launch of their new engines.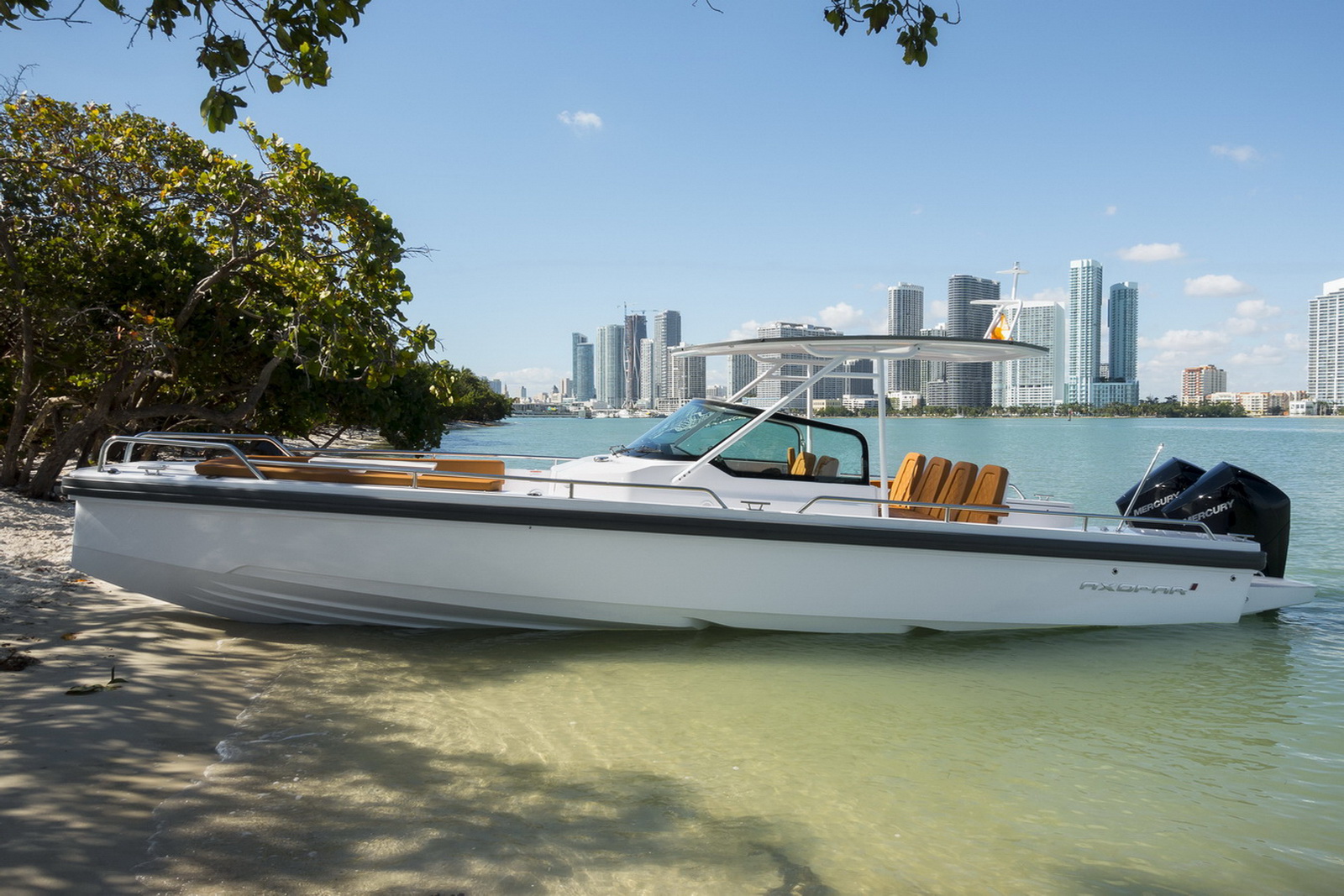 Jan-Erik Viitala was present in Miami and was one of the first to experience these new engines on an Axopar. This is how Janne explained his excitement about the new Mercury´s and their suitability and added value they can provide us with. "Prior to the launch at Miami, we were reluctant to offer customers a dual engine package for their Axopar 28 based upon old 4 cylinder engines from any engine manufacturer as they, when paired together, were heavier, noisier and generated more vibration than a single V6 engine, thus affecting customer experience in a negative way. Due to this fact we also never sold in the past twin engine configurations for more that 2% – 4% of all our produced Axopar 28´s."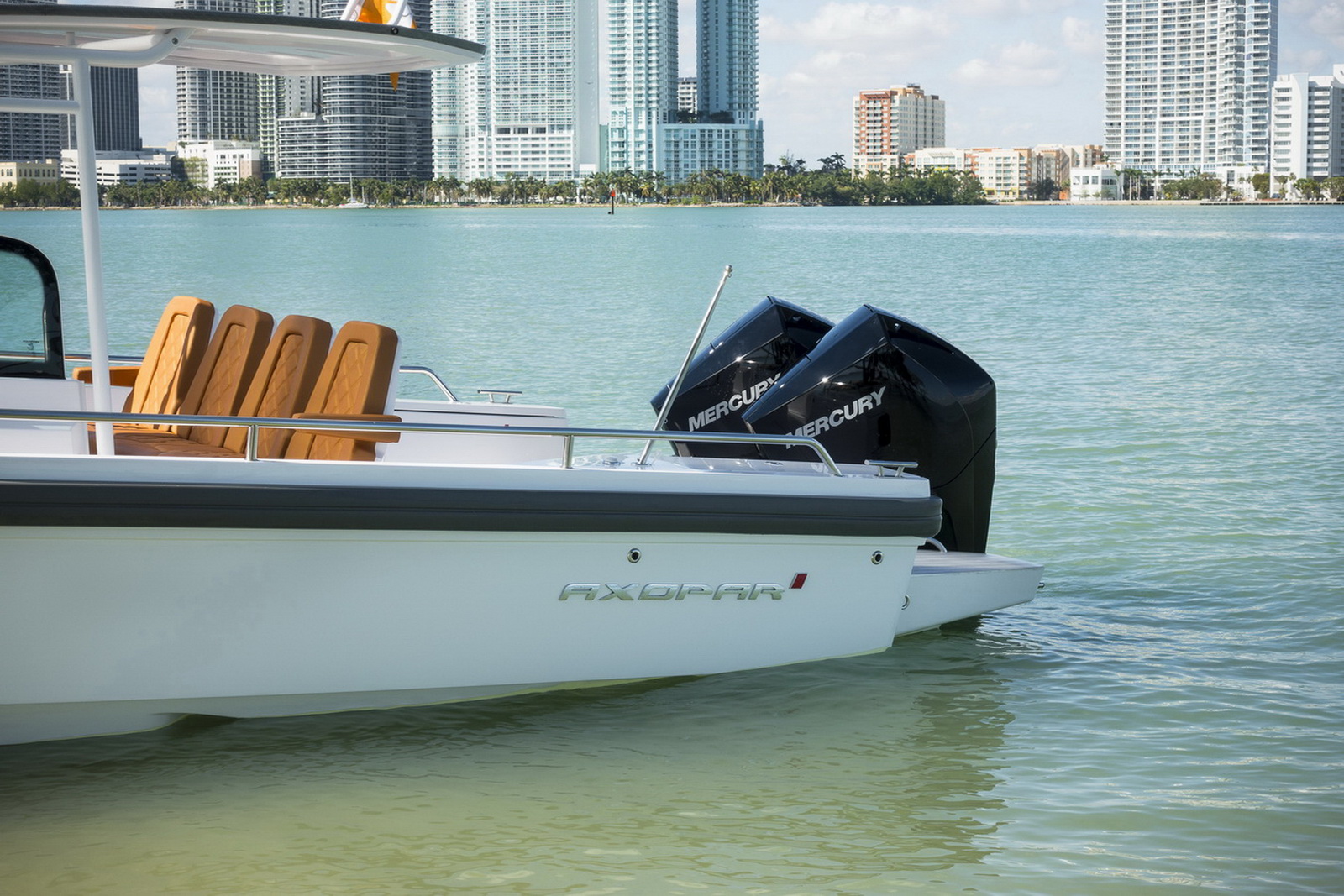 In fact, the Mercury Marine´s all-new engine range has been such an successful and positive development that we can now re-introduce and offer customers looking to buy a new Axopar 28 a dual engine configuration exclusively for these all-new 3.4l V6 engines. The new Mercury engines are loaded with cool features combined with a modern look and design in order to make the boating experience extraordinary. We can guarantee to you that these new light weight, large displacement V-6 engines provide outstanding performance and fuel economy onboard our Axopar 28 range.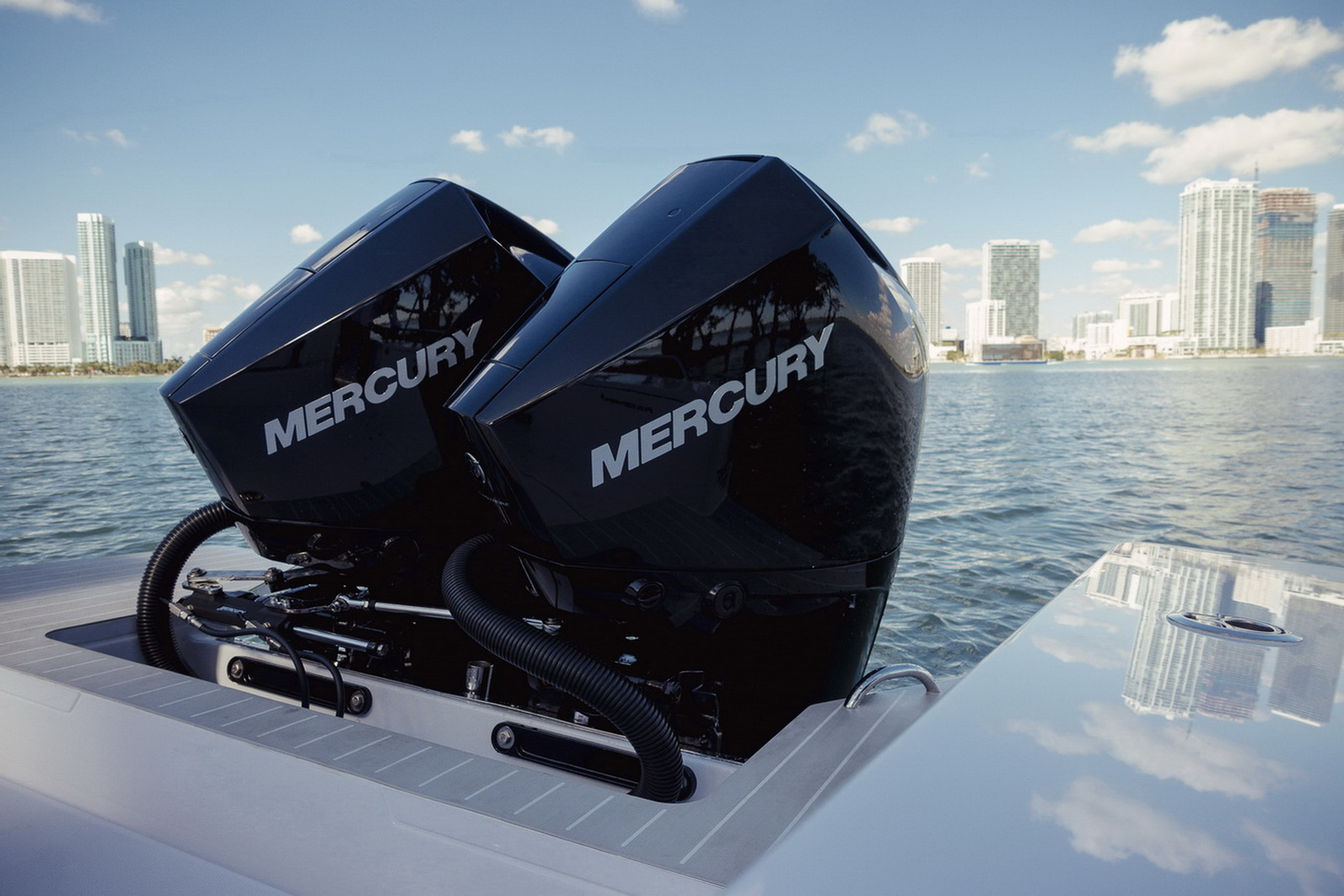 Top speed on the Axopar 28 T-Top in Miami was just above 50 knots with a comfortable and economical cruising speed around 30-35 knots. Without excessive engine noise, harshness or unpleasant vibrations, the quickest acceleration times of 0-20mph where just in 4 seconds and 0-30mph in 6 seconds. The efficient fuel consumption of just 3mpg at 30mph put a smile on everyone's face, particularly when we learnt that Mercury's Advanced Range Optimisation (ARO) calibration has improved fuel economy, to yield a significant 15% advantage at cruising speed, when compared to their nearest 4 cyl competitors.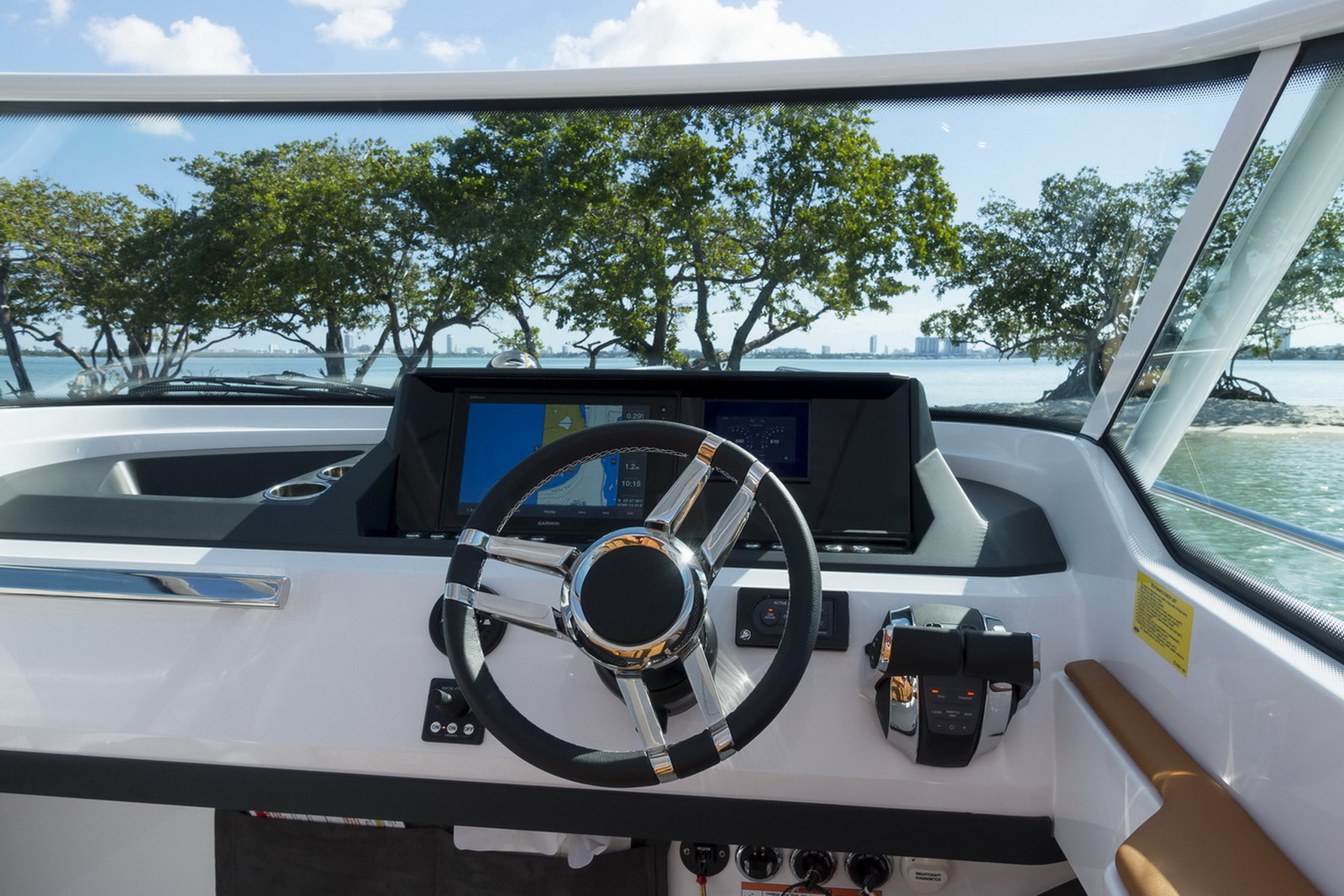 With the lightest model weighing-in at just 475 pounds (215 Kg) dry-weight, this is 35 pounds (16 Kg) lighter than current products in this range. When you consider that even despite the two extra cylinders and greater capacity, Mercury now offer Axopar customers a super-smooth V6 that in reality is actually lighter than an equivalent 4 cyl engine, with the efficiency and performance similar to a single L6 engine, the benefits are truly incredible.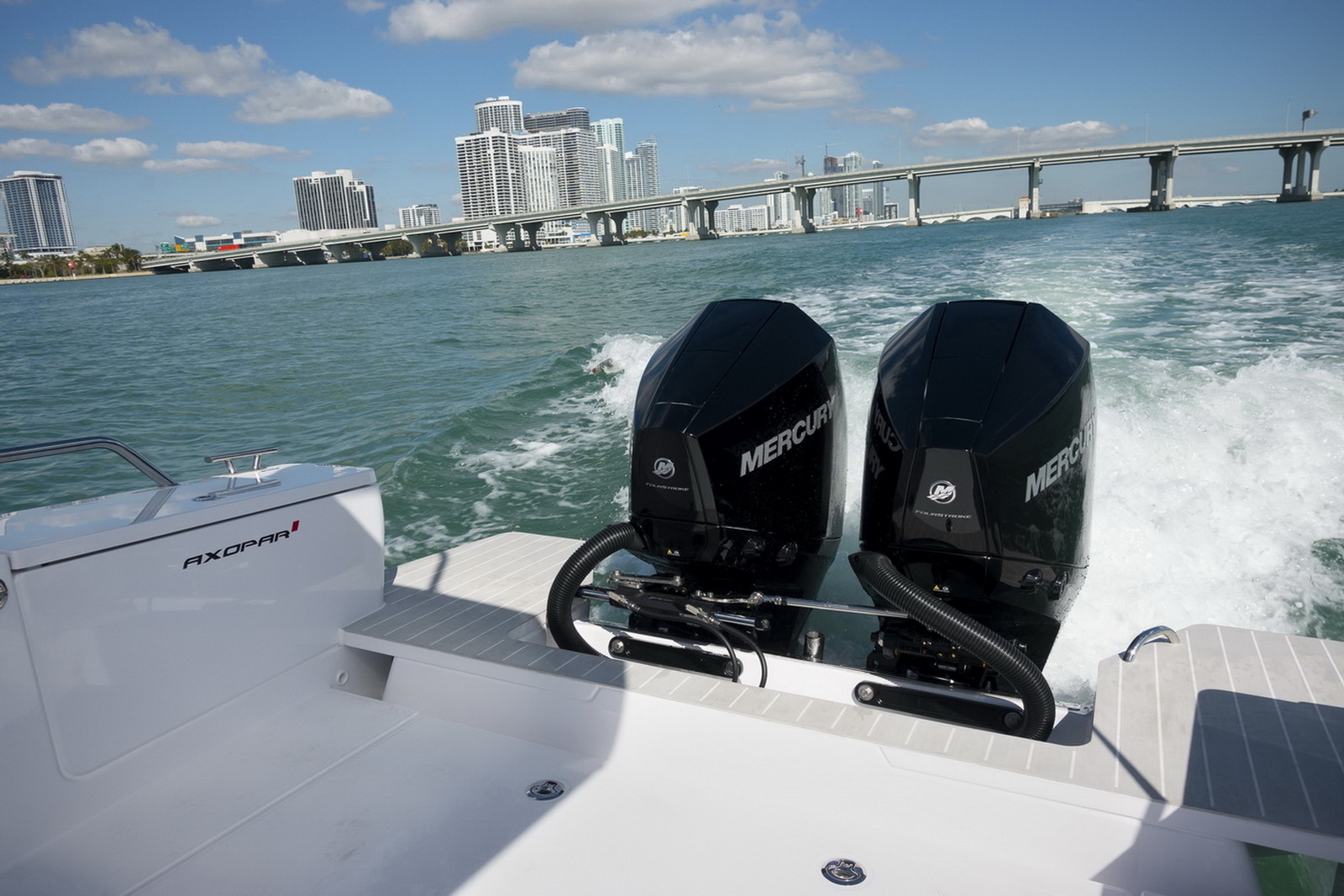 An easy access to maintenance door makes checking and filling engine oil convenient without the need to remove the engines cowling.You are from now on able to order boats from the new 28 range with dual factory pre-rigging for these new engines. In this configuration, the bathing platforms are made narrower to provide space for the dual installation. The pre-rigging is similar to the existing dual L6 twin pre rig including DTS and power steering that you are familiar with on the Axopar 37 range. The fuel capacity remains unchanged and remains a single fuel tank.