Following Derani Yachts appointment as the Fleming Yachts Agent for Thailand, Malaysia and Singapore, Håkan and Ian recently spent four days in Kaohsiung, Taiwan, visiting the Fleming Yachts production yard. During their time there they attended the seatrial of a brand new Fleming 55 prior to it being shipped to Australia and were given a tour of the Fleming production yard.
Fleming yachts have been built in the Tung Hwa yard, located just outside the busy port of Kaohsiung since 1985 when Tony Fleming selected it as the location to build the first boat of his new design. At the time Tung Hwa was building other boat brands as well but over the years as the Fleming business grew, Tung Hwa has dedicated itself to building Flemings exclusively.
In January of 2005 Tony handed over the day to day running of the yard to his nephew Adrian Shard, known as Adi, and Duncan Cowie. Tony took delivery of hull number one of his newest design, the Fleming 65, which he named Venture. He has since then cruised more than 48,000 nautical miles, exploring and writing cruising articles. To read more about Tony's adventures and voyages click here.
Adi moved to Taiwan In 1998 and joined Tony at the Tung Hwa facility and has worked full time at the yard for the past 17 years. He speaks fluent Mandarin as well as the local Taiwanese dialect, which greatly simplifies communications between the Fleming staff and the Tung Hwa workers.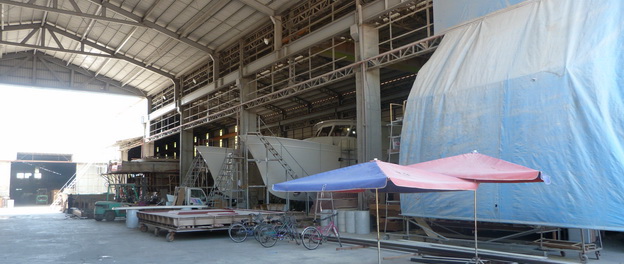 Duncan is responsible for the day-to-day operations of Fleming Yachts including service and liaison with its dealers. He has spent much of the last 14 years in the yard specializing in the design and implementation of modern systems and liaising with suppliers of related equipment but also travels extensively to boats shows and dealers worldwide.
The yard employs around two hundred highly skilled craftsmen, cabinet makers and artisans, many of whom have worked there since production first began. Every boat built at the yard spends the last stage of its production in a huge test tank in order to check all of the vessel's systems and equipment before leaving the factory.
Upon arrival at the offloading port Duncan, or another member of the Fleming yachts team, meets the local brand representative and delivers the boat to its home port. After a full system check the new owner is given a complete and thorough handover which covers all the onboard equipment and systems as well as instruction on boat handling while under way, anchoring and docking. This 4 to 5 day handover is only complete when the new owner is happy with all facets of their new yacht.