Ko Ha is a quiet group of five islands, Ko meaning island and Ha meaning five, around 40 miles southeast of Phuket. The island group is also 11 miles from the nearest and largely undeveloped island of Ko Lanta and over 20 miles from Ko Phi Phi.
Due to their relative remoteness they are much less visited than other islands and are totally uninhabited so retain all their natural charm. The water is clear all year round and the fish and corals abundant and there are great diving and snorkelling sites to enjoy.
The islands are numbered 1 to 5 from northeast to southwest. Island number 1 is surrounded by coral reefs with a wall dive on the north side and an incredible chimney system on the south side that starts at around 16 metres and leads up to exits at 5, 7 and 8 metres. The lagoon formed by islands 2, 3 and 4 is a great dive for beginners with the best snorkelling areas and an incredible sandy beach.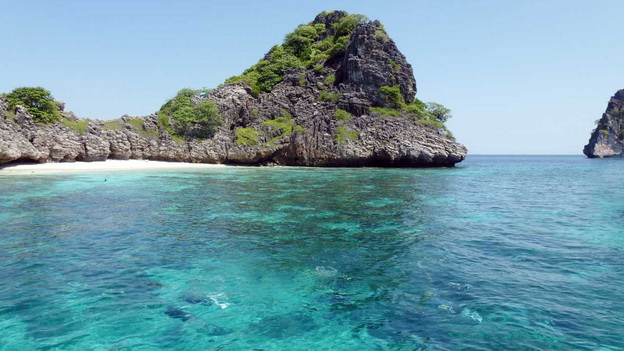 Island number 5, also known as Ko Ha Yai, "Island Five Big" in Thai, has one of the best dives with a cave system known as the Cathedral consisting of two connected chambers with large openings from 14 to around 3 metres and an air chamber inside the larger cave where divers can surface inside the dark cavern. There is a third smaller cavern to the west.
The islands are only suitable as a day trip destination with the best time to visit being during the high season from November to April as from May to October when the larger waves are rolling in from the southwest there is limited shelter.