Up until the deadline (extended until 22 June) there was a flurry of bookings taking advantage of the early bird pricing for the upcoming Cape Panwa Hotel Phuket Raceweek, held 16-20 July 2014 off the Panwa cape. Meanwhile, the biggest news is that the regatta has announced it is becoming the first Clean Regatta in Southeast Asia, as approved by Sailors for the Sea.
The regatta aims to take the lead in environmental stewardship. It showcases Phuket's iconic natural surrounds, the health of which is inherently linked to the success and long-term sustainability of Phuket's marine leisure tourism industry.
As the seas get busier garbage in the sea and damage to marine ecosystems continues, something the organisers are addressing. With the Clean Regattas program certification Cape Panwa Hotel Phuket Raceweek, voted 'Asian Regatta of the Year' at the 2011 Asia Boating Awards, continues its tradition of innovation and leadership.
"Sailing is considered to be a clean and green sport, and on the whole it is. As residents of Phuket and organisers of an annual sailing event here, the team at Phuket Raceweek are aware of the importance of the sea to Phuket's tourism and sailing industries, and we aim to ensure the marine environment is left in a better state for future generations," said Mr. Byron Jones, Managing Director of organiser Media Business Services (MBS)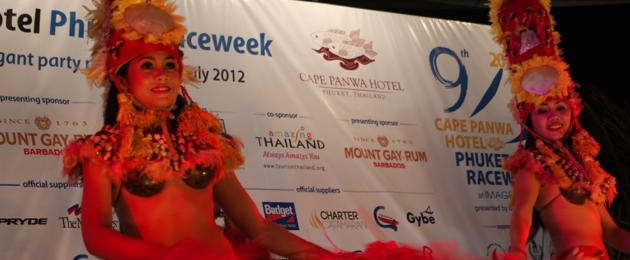 Best practices programme
The Clean Regattas program is a global certification system that encourages regatta organisers and yacht clubs to manage and run environmentally responsible events. Its main initiative is to reduce marine debris and preserve coastal land and waters. With regattas in more than 13 countries are certified.
The program's best practices are being introduced at the 2014 regatta in line with the TAT's Seven Greens programme, which provides a conceptual framework and establishes practical guidelines for carefully balancing tourism promotion and a healthy, sustainable environment. Key points are: Water only wash downs (greywater reduction), Oil spill prevention, Trash free regatta, Recycling, Water bottle reduction and the Promotion of the use of non-toxic cleaning products
Entries from far and near
Among the attending boats some are local, some from the region and some chartered entries from afar. A number of new entries are in including a first time entry from Richard Barnhurst with his Jeanneau 409 "Hedonist" and Australian Simon Oliver also in a Jeaneau Sun Odeyssey "Anchali" along with others lining up from Australia, Singapore, United Kingdom and New Zealand.
The Firefly's of Roger Kingdom "Moti Inzi" and Brit John Newnham "Twin Sharks" are entered along with other regulars to raceweek Stuart Williamson with "Skandia EOW" and Terry Grundy with his Australian crew and Keith Garry will be here once again on BeauX Esprit along with another Australian crew with David Cole on "Kinnon".
In the IRC fleet a number of top boats will be making their Raceweek debut this year, including the recently crowned 2013/14 AsianYachting Grand Prix (AYGP) Yacht and Skipper of the Year, Foxy Lady VI lead by Bill Bremner. Foxy Lady VI is unbeaten in seven Asian regattas and is looking to test themselves in Phuket's Summer Season and get their 2014/15 AYGP campaign off to a flying start.
Also new to Raceweek is the Australian boat Jessandra II. They will be up against another newcomer and well known sailor on the Asian circuit, Hong Kong-based Paul Winkelmann, who is bringing his HH42 Island Fling to line-up against the growing fleet of 40-footers this year.