Set along the scenic shores of The Andaman Sea, in Phang Nga Bay, the first ever Ritz-Carlton Resereve (north of Krabi, Phulay Bay is an waterhole of sorts for boating people and out-of-the-ordinary holiday getaway. Yachts occasinally dock in the bay and their guests on board step on to the beach for lunch or dinner and sunset cocktails.
Memorable dining options include Lae Lay, a seafood grill with breathtaking views of the Andaman Sea; Sri Trang, featuring flavors from Southern Thailand; Plai Fah, the casual poolside bar with worldwide gourmet creations, as well as tropical cocktails and a full beverage list at Chomtawan, the sunset lounge; RAW, the Spa cafe featuring cuisine based on a clean, fresh philosophy; and Jampoon featuring delectable international cuisine.
This first ever Ritz-Carlton Resereve which opened in 2009 is designed for those who seek to escape the stresses of everyday life by retreating to experience new cultures and adventures. The idyllic retreat, which features 54 one-bedroom villas with private plunge pools and beautiful ocean views, sits on an exquisitely chosen location with a distinctive personality and sense of place.
Absorbing nature
Phulay Bay lays nestled between the immaculate white-sand beaches below and limestone cliffs above, and where guests can, literally, absorb the natural surroundings; be it as part of the garden-to-glass adventure, Bartanicals or in any of the spa treatments on offer which uses using indigenous ingredients and practices.
Entertaining and educational, guests get hands on in the homegrown garden sourcing truly fresh ingredients from the incredible bounty of ingredients in Krabi including mint, ginger, lemongrass, basil, coriander and kaffir lime. This then results in herb-infused cocktail creations they then create, supervised by their own mixologist, Khun Aom, at the Chomtawan Sunset Bar. From refreshing, tart to energizing and spicy, each Bartanical offers a fresh, unique-to-Thailand taste. For instance, guests may choose the Kaffir Chom, made with rum, kaffir lime, apple juice, lychee juice, lime juice and syrup.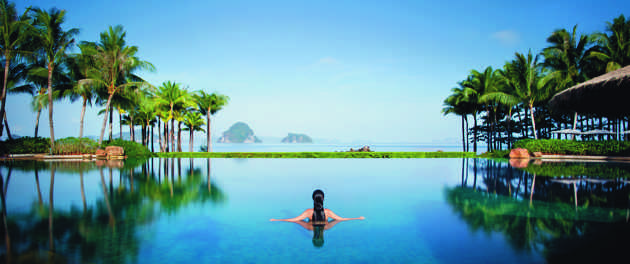 Also Phulay Bay's new, exclusively infused spirits, Thai Infusions, allow guests to enjoy traditional Thai tastes and gives them the opportunity to be their own mixologists by creating cocktails to showcase personality, uniqueness and creativity. 

Thai Infusions are handcrafted by individual Phulay Bay mixologists from the resort, with each infusion representing the flavors that capture the essence of Thailand.
Furthermore, edible cocktails are on offer, house-made with natural juices, fresh fruit, and local Thai spices such as lemongrass, ginger, galangal and kaffir lime leaves. These cocktails pair well with meals and appetizers, or can be enjoyed as a pre- or post-dinner beverage, and are served in flights of three to allow guests a small indulgence in any variety of flavors they choose.
In keeping with the natural environs
Meanwhile, ESPA at Phulay Bay (Spa of the Year from South East Asia and The Pacific in the prestigious AsiaSpa Awards 2013) is situated in an environment of stepping stones meandering between beautiful teak walkways and relaxation terraces surrounded by vegetation with reflection ponds intermittently dotted throughout.
The spa, which has earned a reputation as the most luxurious and indulgent wellbeing sanctuary for relaxation and rejuvenation on the Thai Andaman coast, has a selection of indulgent signature treatment rituals inspired by traditional techniques.
The exclusive resort is the vision of in-demand Thai architect Lek Bunnag and features modern styling and architecture with accents of Thai culture and design.
The architecture, landscape, interiors and accessories fuse to create a marriage of style and design that is completely in keeping with and tied to the natural environment of the location.