Part II
Andy Treadwell of Singapore Yacht Events, in this Derani Yachts interview, continues talking about the support from Singapore, the potential for boating to grow in the area, the need for growing infrastructure, the hub, advocacy work and the finally the yacht show 2013 feedback.
How is the support from the Singapore government and maybe what more could be needed as support for yachting?
Singapore, as we all know, has always been very smart and positive, very pro-active. They agreed immediately to support me in this show, and they've given me big support on marketing, helping us reaching out to a global audience and getting people to come here.
ONE°15 Marina Club and the Sentosa Development Corporation have also been very collaborative, both long-term supporting partners.
The problem with places like Singapore is there isn't really much space for the infrastructure that our industry needs: refit and repair. Waterfront commercial property is very limited, and these really prime areas are needed for the commercial shipping and oil industries, which bring in huge revenues, whilst the pleasure boat industry at the moment is still very small. There are other places nearby where there is more space and there are the facilities – Langkawi and Phuket, for example – where the boats can go for refit and repair, but it seems a shame that we can't keep the business in Singapore, where the owners and captains love to be based.
In this scenario, can boat/yacht brokerage in Singapore as such grow and be able to offer what is needed in terms of services?
I don't think there is a problem there, because Singapore is rapidly becoming the place where everyone wants to come, and lots of people want to be. It's a brilliant place for the yacht show because businessmen want to come here for so many other reasons – to do their banking, visit the casinos, play golf, get medial care, and so on – all the lifestyle reasons… it's the main hub for the whole region now.
So it's not a problem that there's not the infrastructure, or that Singapore is not the yachting destination with cruising locations and dive sites. The point is that this is strategically the best place, because it's the business destination, right at the gateway to the whole region. It's really not far to go to those places where there is room for the refit and repair, or the fantastic cruising waters close by where owners and their guests can enjoy boating.
Should the boat show be seen as the boat show for the region?
I think that it's certainly the yacht show for the region! I don't think you can have too many shows, and this is something that the industry echoes time and time again. So I definitely hope it'll become the yacht show for the region.
In terms of boat shows, for smaller boats, I think we also need – but only at the right time in terms of the industry's development – some kind of local promotional event in new places. It doesn't have to be a boat show, but we do need a way to introduce wealthy local people in a new country to the pleasures of boating. I'm thinking of places like the Philippines, Indonesia, Vietnam and so on – but it needs to be the right kind of event, and we have a concept for this. I don't think inexperienced people should jump on the bandwagon and go and announce new boat shows everywhere every five minutes – it's the wrong concept, it won't work, and the industry shouldn't support them!
How do you view Singapore as a hub, and what do you envision in growth for the yachting sector for the coming three-year period?
I think it's reflected in this particular show, which has doubled in size in terms of the number of boats each year since we started. At the superyacht end, the fact that there are now 50 boats who have been at some stage based in Phuket this season, that's probably the strongest tell-tale of all that the industry is growing and is finally reaching the kind of numbers that we hoped for when we first started looking at Asia in 2008.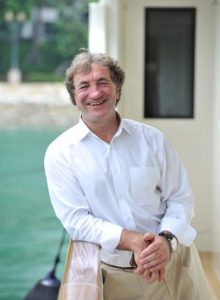 I think that the most exciting thing is the capacity for development; the propensity for people to come is definitely growing – that's been proven, but the region has to be able to absorb a lot more boats coming this way. The lack of infrastructure and unhelpful regulations in the destinations here – Thailand and Indonesia, for example – will obviously impede short-term development to an extent. But is it a "horse and cart" situation, or "chicken and egg"?! If infrastructure doesn't keep up, the growth won't be where it could be.
Having said that, for some people, cruising up to Burma where there's no infrastructure at all, well, that's part of its charm! They don't necessarily all want to be able to tie up in a beautiful marina with restaurants on their doorstep…!
But they do need protected anchorages, and ideally we need marinas. Marinas are being developed and that'll continue to grow. Preferably, it needs to be the right kind of developers who are passionate about the industry and the lifestyle of yachting – there are plenty of them around – to ensure that the infrastructure will keep up. By boosting the yachting scene, as the show is doing, more entrepreneurs will be encouraged to build marinas.
Are you doing advocacy work as well to convince local authorities to help the industry?
We actually facilitate those kinds of conversations; we run an industry conference for that very reason. The industry itself, the associations as well as brokers, dealers and builders – these are the people who should really be lobbying governments, and I am of course absolutely delighted to do whatever I can to help. It's as much in my interest as a show organiser as anybody else's. Right now, we are working with the Thai Marine Business Association to persuade the government in Thailand to change the current regulations and allow internationally flagged yachts to charter there – that would probably be the single biggest boost to the regional industry.
How was the feedback and result of this year's Singapore Yacht Show?
I have to say fantastic – the show was not perfect by any means, and we still have a long way to go – but our exhibitors were universally kind, as you can see from the comments and quotes in the Post Show Report online. We will be constantly seeking more and more, better quality visitors, and we want to see our exhibitors making more and more sales!
Read also part I: Derani Yachts Interviews Singapore Yacht Show