After 10.000 hours of precision engineering and design, one of the most exciting moments in recent yacht development has arrived – the launch of the Dominator Ilumen 28 Metre.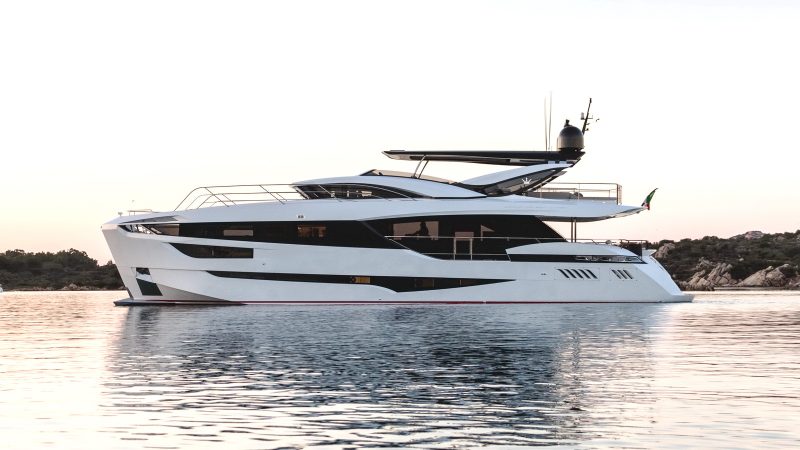 A new era in luxury yachting is born
From its ground-breaking concept via innovative engineering solutions and the most advanced materials and technologies through to the exquisite bespoke dressing of each and every motor yacht, the Dominator Ilumen 28 Metre sets a new standard in power, agility, comfort, luxury and security. The result is a yachting experience like no other, giving you everything a mega yacht offers but in convenient 28-metre format.
"Design is more important than ever, and today owners want a yacht that offers the ultimate blend of performance, style, luxury amenities and comfort. In satisfying the demand for an elegant motor yacht that harmonises classic yachting tradition with modern technology and design, we designed the Dominator Ilumen to far exceed our clients' expectations." Alberto Mancini, Designer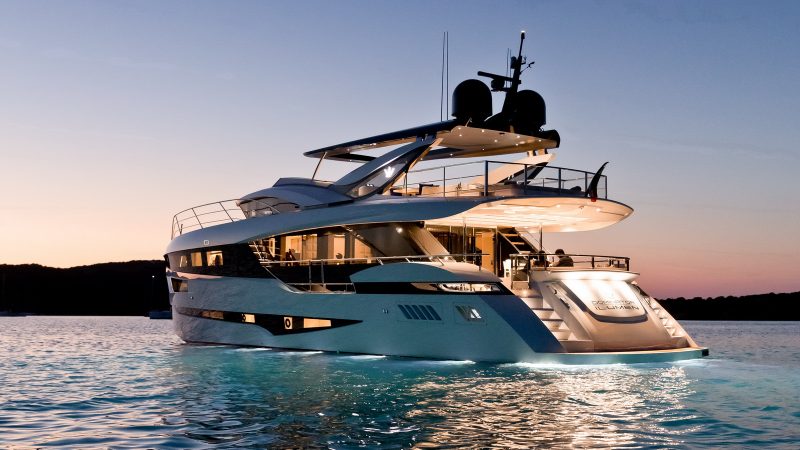 What is the Dominator Ilumen 28 Metre?
Ground-breaking concept, design and cutting-edge engineering combined with bespoke, personalised dressing means the Dominator Ilumen 28 Metre sets a new standard in luxury yachting
The Ilumen 28 Metre provides the ultimate balance between performance, comfort and style
In short, a unique yachting experience incomparable with anything in its class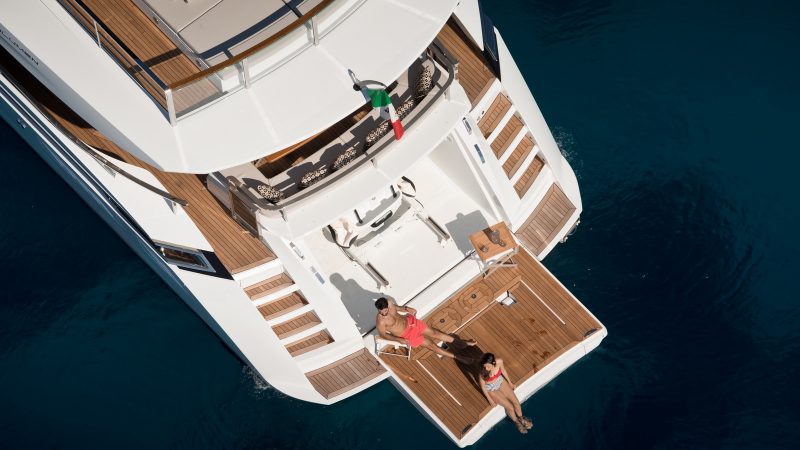 Engineering Innovation
Dominator thought big from the outset, applying the technology, processes and quality materials usually reserved for mega yachts. The designers of Alberto Mancini Yacht Design and engineers of NavalHEAD followed the inspired lead provided by Dominator's owners to arrive at a flowing architecture that harmonises functionality, form, comfort, amenities, power, safety and sea keeping agility like no other vessel in its class.
Every function and space on an Ilumen – from the engine room to the luxury living spaces – is designed for optimal distribution of weight, space, functionality and aesthetics. "Many yachts foresee zero speed fins; to avoid adding resistance due to appendages we went for a huge gyro stabiliser from Seakeeper capable of a reduction of 80 per cent of the uncontrolled roll angle up to 14 degrees," says Federico Brumat of Dominator's Technical Office.
To guarantee comfort on board when at speed the Ilumen 28 Metre relies on an advanced full motion damping system capable of roll and pitch motion reduction called Humphree Active Ride Control. It also enhances manoeuvrability, speed and reduces resistance and with it fuel consumption, while ensuring optimal stability in all conditions. The new compact main engine exhaust outlet with Gold Standard warranty was developed together with hydrodynamics specialists Profjord.
Mounted inside the flexible lightweight Dominator High Performance Hull of the yacht are MAN V8-1200 engines that propel the push/pull Counter Rotating Propellers with a combination of power and efficient safety. The Fischer Panda iSeries Generators employ variable speed technology to similarly offer top range effectiveness across in all kinds of conditions, while the approach also extends to comfort-related applications that ensure consistent climate control that avoids costly start-stop cycles.
Solar control interlayer film in the glassed areas lowers direct heat transmittance from the sun by 40 per cent to further aid energy efficiency, making the Dominator Ilumen 28 Metre more environmentally friendly and economical to run. Every Ilumen yacht can be prepared to meet the MGN 280 compliance certification that enables them to be operated commercially.
"How many motor yachts of this size consistently integrate mega yacht solutions the same the Ilumen does? None! From the high-tech construction in post-cured glass and carbon mixed with epoxy resin to the full use of epoxy filler cycle and the application of the Awlcraft painting cycle instead of common, cheap gel coats – every detail immediately tells you that Ilumen is something quite different." Andrea Agusta, Head of Engineering.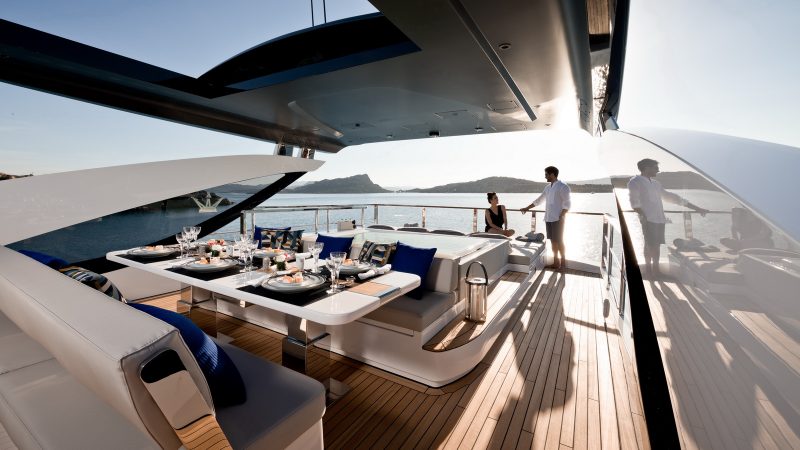 Experience-led Design
The Ilumen series of yachts is different because it was conceived from a new perspective – not in the conventional way but from the desire to create something truly outstanding. Many of the best luxury products are design-led, but with the Ilumen range of motor yachts Dominator goes one step further to develop its offering from the basis of an experience-led philosophy.
It is product development that begins with the client, not the product, and works its way back from the idealised vessel through exhaustive R&D, innovative engineering, inspired design and the creation of industry-leading solutions and exquisite final dressing to emerge as a ground-breaking luxury yacht that defies the conventional limitations to become, quite simply, the best in its field.
"We set out to challenge limitations and provide the same sensation of space, elegance and luxury in a 28-metre format that you would expect in a mega yacht, " says Chief Designer, Alberto Mancini. "When I first saw the hull, deck and superstructure I realised it was the beginning of a new era." And indeed, the features such as the owner's cabin, a beautifully curved glass frontage, the rotating beach platform and the impressive fly deck are unique, industry-leading features.
The Dominator Ilumen is characterised by unique touches and features, such as the handcrafted Purismo Aurelia, a bespoke lightweight carbon e-bike that like the Ilumen 28 Metre represents the pinnacle in its field and adds to the practicality and enjoyment of your yacht.
"To us Ilumen is more than just a yacht or a luxurious product. It symbolises the love of man-made beauty that is not only in harmony with nature but complements it and represents a desire to contribute to a better world. To own an Ilumen or strive for one is connected to the obligation to strive for a better world, support our fellow man and promote peace and beauty in the world." Dr. August Pernsteiner, Visionary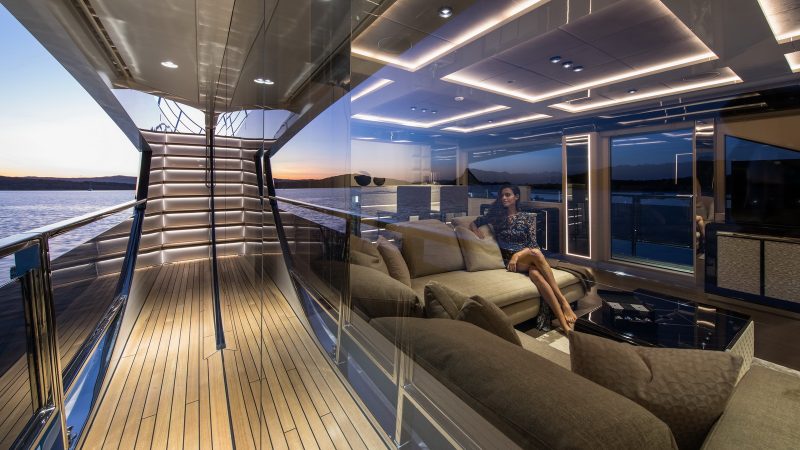 Exquisite Luxury and Emotion
Each and every Ilumen 28 Metre is a thing of beauty, a bespoke synthesis of technology and design that offers a personal palate of options with which owners can create their own personalised haven of comfort, luxury and superlative style. Sleek and seductive, this 21st century motor yacht cannot help but stir emotions as she glides through the water.
Custom-made furniture and bulkheads finished in the most opulent materials such as backlit white onyx, ebony, white oak, silk, Zimmer and Rhode fabrics, suede ceilings and satin-like nubuck leather are just some of the possibilities, but as Head of the Dominator Bespoke Office, Giulia Sigismondi, says: "The interior dressing of each yacht is a highly personal affair, so we work with the owners to make it a bespoke design that fits them like a glove in terms of taste and preferences."
The Dominator Ilumen Kalliente that was just officially unveiled at the Yacht Club in Monaco features amongst others a custom bar with slidable top, made of stainless steel, backlit onyx and Foglizzo leather or a bespoke champagne table made by Luxury Wood Italia who used lacquered ebony, Foglizzo leather, stainless steel, and inside partitions for champagne glasses.
The interior distribution is such that it creates a sense of being on a much larger ship, a sensation realised in part through tall ceilings and the use of glassed areas that allow natural light and seascapes to illuminate the luxurious cabin spaces. Nowhere is this approach more impressive than in the skylight and private deck of the master cabin, and it helps to create a truly privileged private space.
Integrated into the interior are 'zero impact' invisible speakers in VIP and guest cabins that transform any surface they are embedded into (be it concrete, fibreglass, wood, marble, stone or glass) into a high performance audio system. This state-of-the-art system, incorporating a sound masking system in the main salon and master cabin, provides an advanced audio-visual, communication and entertainment system that includes a private cinema projector on the Sun Deck.
"We loved the challenge of designing cutting edge Videoworks systems specifically for the MY Kaliente, and would like to thank Dominator for allowing us to develop its innovative audio/video, entertainment, IT and domotic onboard system." Mauro Pellegrini, founder of Videoworks.
Though it varies from client to client, the interior of an Ilumen evokes a subtle harmony of contemporary style and timeless sophistication. To achieve this we have painstakingly selected the finest materials and most prestigious names, such as the Futuristic collection by Hèrmes, which we believe embodies the perfect blend of elements.
The words of Andrea Agrusta sum up the way we all feel about our beloved Ilumen 28 Metre: "I believe we have defied the rules and created a new milestone in the yacht industry."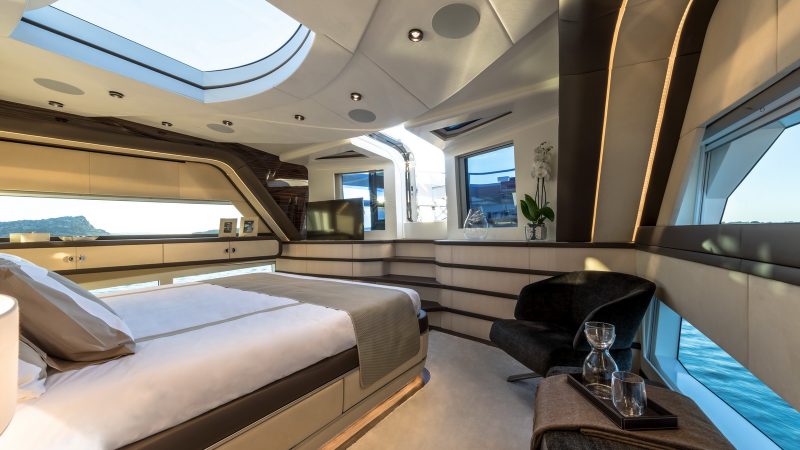 The launch of a new milestone
Angela Pernsteiner is an important part of the passionate, dynamic force behind this project that binds the many different expert professionals and craftsmen together. The very name ILUMEN stands for the illumination of ideas and engineering processes, and in the spirit of Leonardo da Vinci this is exactly what Angela and the team have achieved – producing in the process a modern work of art.
"The Dominator Ilumen yachts are bespoke through and through – from the choice of the hull between a semi-displacement and semi-planing version, to the individual comfort cruising speed, the propulsion system or the complete re-engineering of the internal spaces, to name only a few options," says Angela.
What's more, the tireless dedication of Dominator extends beyond the creation of an outstanding motor yacht and its bespoke appointment to also include a very personal and long-term service. "We consider our clients to be a family of Ilumen owners, so our commitment to them is both flexible in its nature and in its 24/7 availability. This is our bond to owners of an Ilumen yacht, wherever you are, whenever you need us."
After many thousands of hours of hard work and determination, the long-awaited launch is now here, and the first Dominator Ilumen 28 Metre to take to the waters – the 28/03 Ilumen Kalliente – will be berthed in the south of France throughout the summer of 2017, starring at the Cannes Boat Show before being the centre of attention during private viewings and events along the Côte d'Azur. "We expect to turn many heads as we add to the glamour of the French Riviera."
An international network of brand ambassadors will represent the Ilumen 28 Metre in a variety of key markets across the world, though the epicentre of this magnificent motor yacht is the Mediterranean – its 'home ground' so to speak. "The people who will be introducing the Ilumen 28 Metre to its clientele will work in the same bespoke manner as Dominator itself, so expect them to be every bit as passionate and knowledgeable as ourselves. This is especially true of those who have delivered yachts with us before, as they know exactly how we go the extra mile with and for clients."
For more Information visit Dominator Ilumen 28 metre